White rhino on verge of extinction: Second-last male dies
The white rhino is one step closer to extinction with the death of Angalifu at the San Diego Zoo Safari. Only five members of the heavily-poached species exist now, including one male and four females.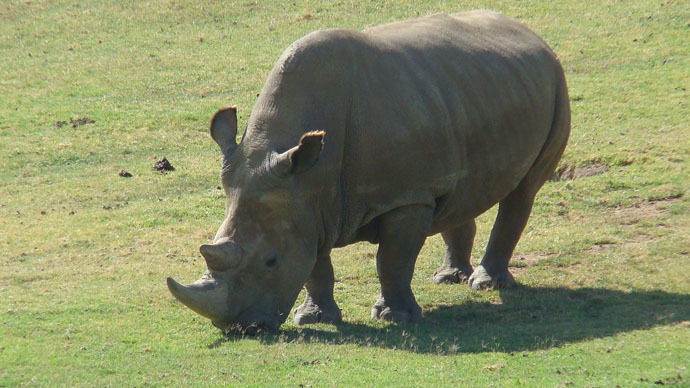 The animal, estimated to be 44 years old, died from age-related ailments, park officials announced. Angalifu was in decline for some time and had refused food for several days.
"Angalifu's death is a tremendous loss to all of us," Rancy Reiches, curator of mammals at the Safari Park, told the Los Angeles Times.
Angalifu passed away. 5 northern white rhinos remain #RIP#EndExtinction Pls share condolences. Photo: Helene Hoffman pic.twitter.com/X0sEkWNJAF

— San Diego Zoo Safari (@sdzsafaripark) December 15, 2014
The rhino is survived by elderly female Nola, who is living at the US zoo. Conservation scientists had been trying for years to coerce the pair into mating and producing progeny, but the attempts were futile.
Angalifu was transferred to the San Diego Zoo in the late 1980s from a zoo in Khartoum, Sudan.
The Ol Pejeta Conservancy in central Kenya has three more white rhinos, one male and two females, although attempts to breed the near-extinct animal there were not successful either.
The effort is a gamble, since the females are both from the northern variety of the species while the male is a southern white rhino.
A male white rhino died in the Kenyan preserve earlier in 2014.
And an elderly female lives in Czech Republic's Dvur Kralove Zoo, the same one that loaned Nola to its American colleagues.
White rhinos are the biggest in the family and have been heavily poached for their horns. Buyers value them as dagger handles and for their supposed medicinal properties – a superstition disproved by scientists, but persistent in many Asian cultures.
The San Diego Zoo Institute stored semen and testicular tissue from Angalifu for possible use in a project to revive the species, if the technology to do so is ever developed.
You can share this story on social media: