'Stripped naked, kept in solitary': Manning tortured like terrorist, Welsh relatives say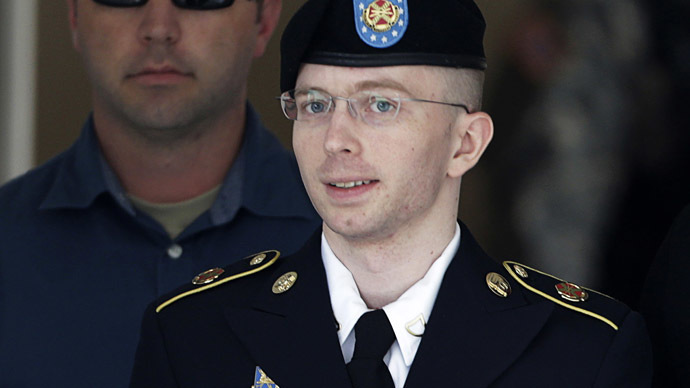 US authorities tortured Chelsea Manning with barbaric CIA techniques, which posed a threat to her psychological health, the Welsh aunt of the jailed whistleblower revealed to local media.
Before her trial for providing WikiLeaks with the largest cache of classified information in US history, Chelsea Manning was humiliated in a similar way that terrorist suspects were, her Welsh relatives told WalesOnline on Sunday.
"What really hurt me was the treatment Chelsea received in Quantico two years before the trial: stripped naked, kept in solitary confinement, made to stand in a corner, everything taken away," said Sharon Staples, Manning's aunt.
Her revelation echoed the 2012 report of UN special rapporteur Juan Mendez, who ruled that "the alleged prolonged solitary confinement … was … a violation of Manning's right to physical and psychological integrity," as well as of presumption of innocence.
The allegations by Manning's family add further to the growing calls to investigate US interrogation techniques, as well as the role British intelligence played in the process.
The summary of a CIA report, released this week, revealed the agency's harsh torture methods – including freezing inmates to death, sleep deprivation, rectal feeding and waterboarding.
READ MORE: 10 most shocking facts we found in CIA torture report
Susan Manning, mother of the former intelligence analyst for the US Army, said: "Chelsea will be 27 years old on 17 December and this will be the fifth birthday she's spent in prison. It breaks my heart to think of her missing out on her freedom, all because she told the truth instead of covering it up."
"Chelsea was brought up to be truthful," she added. "When she was small, her grandmother lived with us and she always said to the children: 'If you can't tell the truth, don't bother speaking'."
Welsh Secretary of State Stephen Crabb, who attended Tasker Milward school in the Welsh county of Pembrokeshire, where Manning studied for four years, said there can be "no justification whatsoever for the use of torture, neither in military nor civilian cases." He added that the concerns raised about Chelsea Manning's treatment deserve to be addressed.
Chelsea Manning is facing 35 years in prison for exposing human rights abuses. http://t.co/nt7hnfgD9Z#US#w4r14pic.twitter.com/V7t2EfYZcq

— AmnestyInternational (@AmnestyOnline) December 9, 2014
Manning, who was jailed for 35 years on a number of charges including espionage, is being supported by human rights advocates, among them Amnesty International.
The Manning Family Fund, based in Wrexham, Wales, has been raising money for three years and has helped finance Chelsea's local relatives' visits to the prison.
"Chelsea Manning's leaks included evidence of how illegal CIA renditions and torture were being carried out and covered up with the complicity of many countries," said Genny Bove, the fund's co-founder.
"Now we have even more graphic and shocking evidence of CIA involvement in torture with this week's senate report. Chelsea Manning shouldn't be in prison."
NO circumstances whatsoever can justify the use of #torture. Perpetrators must be held accountable. #TortureReporthttp://t.co/ST59ci3zhe

— AmnestyInternational (@amnesty) December 11, 2014
"Manning was a decent person in an abhorrent system. By following the rules he would be an accomplice of torture." bit.ly/cZuDHk

— WikiLeaks (@wikileaks) November 12, 2010
Campaign for Chelsea #Manning by #AmnestyInternational seen in Bamberg \o/ pic.twitter.com/8GFHX8Qhq0

— martinhaase (@martinhaase) December 5, 2014
You can share this story on social media: