iDrunk? 'Unique' state-funded app to discourage tipsy drivers
Published time: 13 Dec, 2014 13:31
Edited time: 13 Dec, 2014 13:32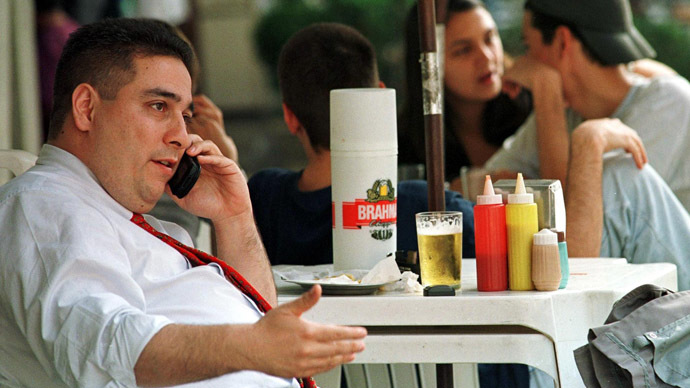 A new cell phone app in the US lets people know if they are over the limit - all assisted with a couple of games. The app uses GPS and a database of taxis to help drivers get home safely.
Maryland government and police officials have recently announced ENDUI – with the idea behind the name being "to end DUI" (Driving Under the Influence).
For the app to calculate blood alcohol levels, users enter their gender, height and weight, as well as the number and kind of drinks consumed. To ensure accurate results, the app also includes two interactive games, which test reaction time and cognitive agility. Finally, based on GPS technology and pre-loaded phone numbers of taxi drivers, an inebriated person can call a cab.
Md has an APP to help end DUIs in the state @WNEWpic.twitter.com/9YvwbTV9Pd

— Karen Adams (@KarenWNEW) December 11, 2014
Kara Macek, a spokeswoman at the Governors Highway Safety Association called the new app "unique," AP cites.
One of the games on the app is designed to imitate real driving situations. The user presses a red "brake" button if a car ahead stops, or a pedestrian passes by in a game that measures reaction times.
"The game is meant to be a hook and pull you in," said Tom Gianni, chief of the Maryland Highway Safety Office. "Then it's meant to give you a lesson of, 'See what can happen. Imagine if you were behind the wheel.'"
Md's EnDUI @ work. BAC feature is for educational purposes @WNEWpic.twitter.com/7l9IomXRlI

— Karen Adams (@KarenWNEW) December 11, 2014
The other game has the user recall the order nine road signs blink. With each round, the game gets increasingly challenging – even without drinks!
"It kind of takes the guesswork out of a situation where you've had a few drinks and you're not sure what to," Gianni said. "This takes all the brainwork out of it."
Costing around $50,000, the app was developed by the Maryland Highway Safety Office. It was funded by the National Highway Traffic Safety Administration with federal money channelled for drunk-driving educational efforts.
The app regularly warns its users that disregarding the results, "driving with any amount of alcohol in your system may impair you and be illegal."
The application is free to download on iPhone and Android.
Check out our new #ENDUI app. It's now available for free download from The Apple store http://t.co/NlAMlkjBDipic.twitter.com/6vtw8IroTY

— MD MVA's MHSO (@tzd_maryland) December 12, 2014
Maryland is not the only US state with such a measure to tackle driving under the influence. New York, New Mexico, Colorado and California have their own versions of free applications, but none of them contain games to test reaction.
"I think states are starting to go that route because they're trying to reach consumers where they are and where they spend time, and everyone spends time on their phone," Macek said. "I think we're going to see more of that as we go forward."