US closes Bagram detention center in Afghanistan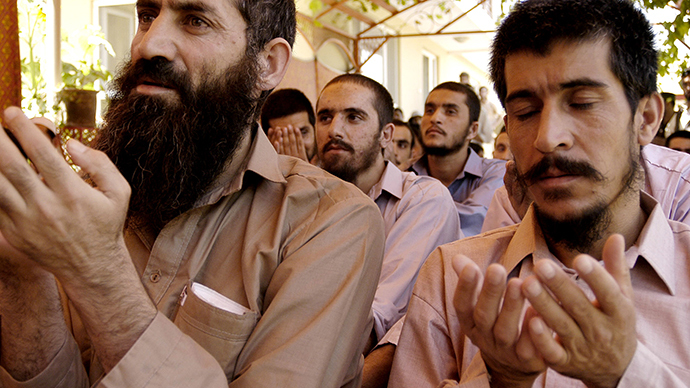 The US Defense Department announced it has closed the Bagram detention center and now has zero detainees in its custody in Afghanistan, Reuters reported.
Although the United States transferred control over Bagram to the Afghans back in 2013, the detention center became infamous due the harsh treatment some of the detainees received while in American custody. At one point, it was double the size of the controversial Guantanamo Bay prison complex in Cuba.
The facility's closure comes just one day after the Senate released its long-awaited torture report, which described the gruesome tactics deployed by the CIA against terror suspects in the wake of the September 11 attacks.
READ MORE:Senate accuses CIA of torturing prisoners, overstepping legal boundaries
Two of the most infamous cases involved prisoners named Habibullah and Dilawar, whose abuse was chronicled by The New York Times in 2005. Dilawar – who was chained to the top of his cell for days by the time he died – was brutally beaten and passed away in 2002.
"At the interrogators' behest, a guard tried to force the young man to his knees. But his legs, which had been pummeled by guards for several days, could no longer bend," wrote Tim Golden in the Times.
"An interrogator told Mr. Dilawar that he could see a doctor after they finished with him. When he was finally sent back to his cell, though, the guards were instructed only to chain the prisoner back to the ceiling."
Habibullah, who died just a few days before Dilawar, was also chained to the ceiling and beaten. The Times noted that he was struck more than 100 times in a 24-hour period.
READ MORE:'The Other Guantanamo' - Indefinite detention at Bagram Air Force Base
As recently as this past September, there were still questions about the fate of the detainees being held at Bagram. It was unclear how many people remained in American custody, but with the US gradually drawing down its war in Afghanistan, officials said the legal authority allowing them to continue holding prisoners was about to expire.
"We've got to resolve their fate by either returning them to their home country or turning them over to the Afghans for prosecution or any other number of ways that the Department of Defense has to resolve," said Brigadier General Patrick Reinert, the commanding general of the United States Army Reserve Legal Command, at the time. "Until the country provides assurances, the individual cannot be transferred."
DETAILS TO FOLLOW
You can share this story on social media: