​Wyoming robber with toy gun shot by pharmacist with real one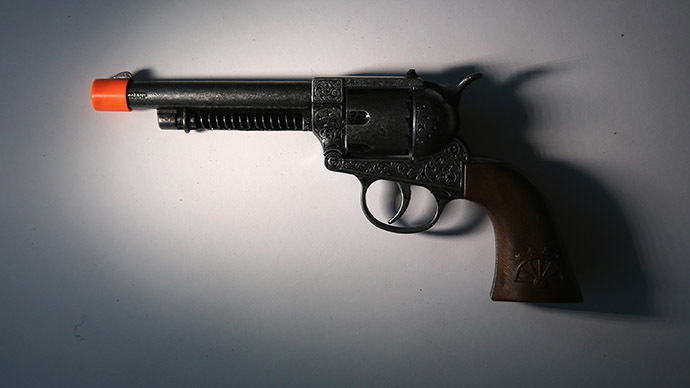 A would-be robber in Wyoming may have thought it was a clever idea to try and rob a local pharmacy using a fake gun, but the situation turned extremely real when the pharmacist behind the counter pulled out a gun of his own.
The pharmacist, who remains unidentified, shot the man once in the chest and injured him, according to the Wyoming Tribune Eagle.
The entire incident unfolded over the weekend, when the unnamed suspected robber walked into Medicap Pharmacy in Cheyenne, Wyoming at around 9:45 in the morning. Once inside, the man allegedly demanded that the pharmacist hand over narcotics while "brandishing" a toy gun that looked alarmingly real.
"The pharmacist then pulled out a firearm – a handgun, a revolver – and shot the suspect once in the chest," said Cheyenne Police Department Chief Brian Kozak to the Eagle Tribune.
Maybe pharmacy school should offer firearms classes? Pharmacist shoots alleged robber | http://t.co/76JXgJ7Mrt

— Honest Apothecary (@jasonpoquette) December 9, 2014
Fortunately for the suspected robber, he survived the bullet and was taken to receive medical treatment.
"It appears that the bullet missed his vital organs and the suspect is in stable condition at the hospital," Kozak told the newspaper.
While the pharmacist has met and spoken with police, there's been no decision regarding whether he will be charged. The incident is currently being investigated.
However, the pharmacist's actions were generally praised in the comments section of a Facebook post made by the police department.
"This is why I carry NO MATTER where i go (where it is lawful) excellent job pharmacist," wrote one user.
"Way to go pharmacist," wrote another. "Everyone has the right to protect themselves and their property against criminals."
You can share this story on social media: