Chlorine poison gas attack at animal-dressing convention (VIDEO)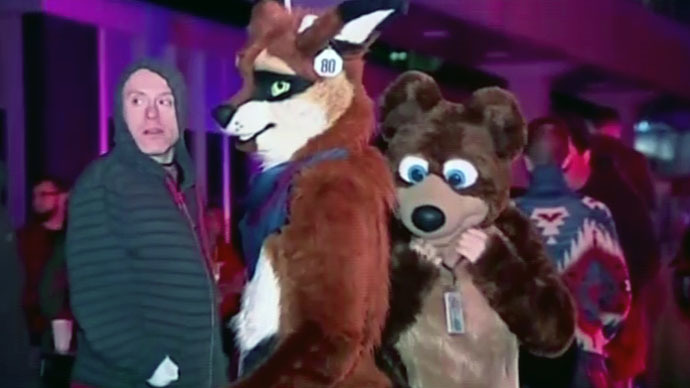 Police are investigating an intentional chlorine leak that sent 19 people to the hospital and prompted evacuation of thousands of attendees of the Midwest Fur Fest, an Illinois convention of fans of "anthropomorphic animals".
In less than half an hour the entire Hyatt Regency hotel was evacuated following a 9-1-1 call at 12:45 am local time
At the scene, the first responders determined that a container with a chlorine-containing chemical was broken at the 1,100-room hotel located in Rosemont, near Chicago.
Firefighters discovered the broken container in a stairwell on the 9th floor. Rosemont Police Department said the powered chlorine was released "intentionally" and the incident is being investigated.
There were 19 people hospitalized after a possible chemical attack at a Furry convention http://t.co/54ZhMTEUALpic.twitter.com/XfxIW8Q0T0

— BuzzFeed News (@BuzzFeedNews) December 7, 2014
Rosemont Public Safety has reported that nineteen people who complained of nausea and dizziness were transported to local hospitals. The other guests were sheltered at nearby facilities.
After technicians decontaminated the area and deemed it safe, people were allowed back into the building about 4:20 am, FurFest said in its press release.
Possible chemical attack at convention of people who wear animal costumes. http://t.co/5sC3qiFgTX via @buzzfeedpic.twitter.com/DALYMbSu5c

— Adriel Bettelheim (@abettel) December 7, 2014
Midwest FurFest is an annual convention that takes place in the suburbs of Chicago, Illinois. According to organizers, its enthusiasts celebrate "furry fandom" – art, literature, and performance based around "anthropomorphic animals", characters that combine human and animal features.
The community has its share of haters, particularly due the sexual aspect in adoring such characters some members of the fandom have. Some people see it as perverse.
People attending Midwest Furfest convention back inside after they were evacuated from Hyatt Regency. #FurFestpic.twitter.com/PAdBZs7WFi

— Regina Waldroup (@ReginaWaldroup) December 7, 2014
You can share this story on social media: