'Biden get out!' Turks protests US VP visit to Istanbul (PHOTOS, VIDEO)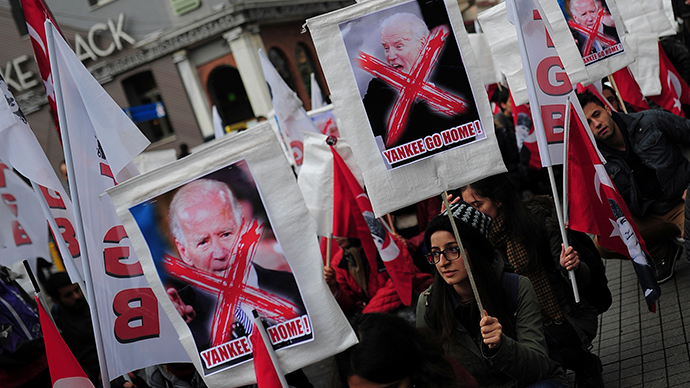 Turkish protesters have rallied against the visit of US Vice President Joe Biden under banners saying 'Yankee Go Home'. In Istanbul Biden has been encouraging Europe to reduce energy dependence on Russia and announced aid to Syrian refugees.
Around 300 people chanting "Biden get out. The country is ours," took to the streets in Istanbul on Saturday. The event had been organized by the Youth Association of Turkey which also "greeted" three US Navy sailors last week stating a similar "Yankee, go home!".
Biden was lucky not to witness the protests himself, as the sailors last week were doused in paint meant to symbolize blood while calling the victims "murderers."
READ MORE:US sailors ambushed by nationalists in Istanbul (VIDEO)
Speaking at the Atlantic Council's energy security summit in Istanbul on Saturday, Biden called on Europe to continue diversifying its energy supplies to reduce dependence on Russia.
"Now, now, now is the time to act," Biden said according to AP. "We have been aware that this single source of energy has been a problem for a long time… But my message is not that Europe can or should do away with Russian imports."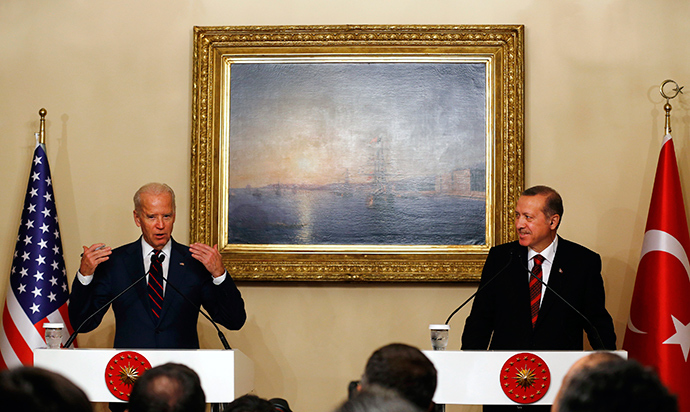 "Russia can and should be a player, but Russia has to play by the rules," Biden stated, while Turkish PM Ahmet Davutoglu said vaguely that "energy is a tool for peace."
Students staged the protest as Biden was meeting with Turkish President Recep Tayyip Erdogan after the summit and announced nearly $135 million of extra humanitarian aid to the country to cope with the influx of civilians on account of ongoing turmoil in neighboring Syria.
Turkey has some 1.6 million refugees within its borders from Syria. Among them are more than 190,000 Syrians from Kobani which has been the site of ongoing battles between predominantly-Kurdish forces and Islamic State militants who have been attempting to seize the area.
Biden told reporters that he had spoken at length with Turkish President Recep Tayyip Erdogan about the situation in Iraq and Syria and affirmed that the US-Turkey relationship is "as strong as it has ever been."
"We need Turkey, and I think that Turkey believes that it needs us as well," he said. Turkey has been somewhat reluctant to fully engage against the Islamic State. Erdogan has resisted over fears of empowering Kurdish factions in his own country that could push for independence.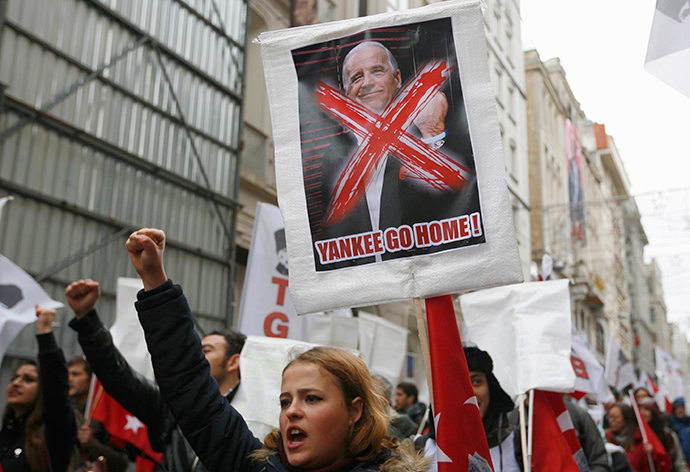 Biden also stated that the status of Syrian President Bashar al-Assad was discussed.
"On Syria, we discussed ... not only to deny ISIL a safe haven and roll back and defeat them, but also strengthen the Syrian opposition and ensure a transition away from the Assad regime," Biden stated.
On November 15, the US and Turkey agreed on plans to train 2,000 members of the Free Syrian Army (FSA) on Turkish territory, but the sides failed to agree on the question of training Kurdish groups, which Ankara has labeled members of a terrorist organization.
You can share this story on social media: