​Missouri police reportedly beat 80yo hearing-impaired veteran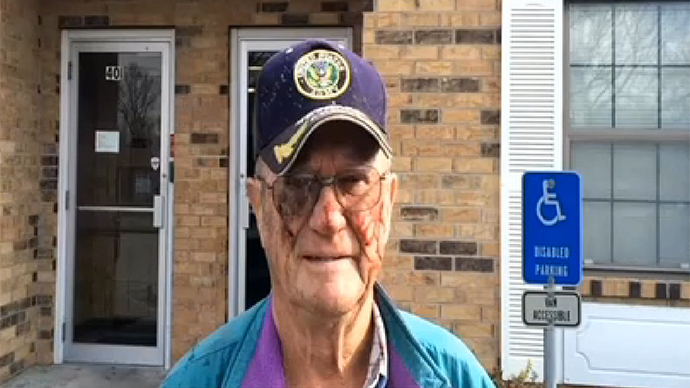 Police in Lone Jack, Missouri allegedly beat an 80-year-old veteran to the point that he suffered broken ribs and a bloodied face – all for apparently refusing to get off his tractor.
The incident began when Bill Swan took exception to the local crews working in the area, because he believed they were digging on his property. Local police told KCTV that Swan has something of a history with the public works employees, and the workers called law enforcement when they felt the veteran was being "abusive."
What happened after authorities arrived at the scene, however, depends on who is asked.
Swan's family – his wife Libby and grandson Tim – said that Bill was on his tractor when officers showed up. They claimed police told him to get off the tractor, to which Bill Swan said he didn't have to, since he was on his own property. At this point, Tim told WDAF that police maced Swan, who is hard of hearing, and "drug him off the tractor."
"It's obvious they used excessive force," said Libby to the news outlet, adding that she is afraid of calling the police in the future. "He had abrasions on his face that were bleeding, he complained of pain on his right side."
That's not exactly how the situation unfolded to the Lone Jack Police Department, though. In a statement released to KCTV, Police Chief William Forbes said Swan tried to back his tractor into a police car before using the vehicle to try and leave the scene.
Forbes also said that police gave both verbal and hand signals to Swan to get off the tractor. When one of the officers shut the tractor down, Swan allegedly tried to hit the police and reach for one of their guns.
"During the scuffle trying to subdue him, he suffered a cut on his head. EMS was called. EMS responded. He was abusive to them and refused treatment," the statement read. "He was then brought to the station where [he] was booked for disorderly conduct, resisting arrest, and two counts of assaulting a police officer."
To Tim Swan, the idea that his grandfather tried to physically attack police is outlandish, since he is nearly deaf and cannot go up the stairs without assistance.
Nevertheless, Forbes told KCTV that the officers "were in fear of their lives" and conducted themselves properly. Forbes was asked just how afraid officers could be when confronting an 80-year-old man, but he said, "It doesn't matter how old a man is if he's on a tractor and he's trying to run you over."