​Who needs $37mn? NFL star gives up sport to farm, feed hungry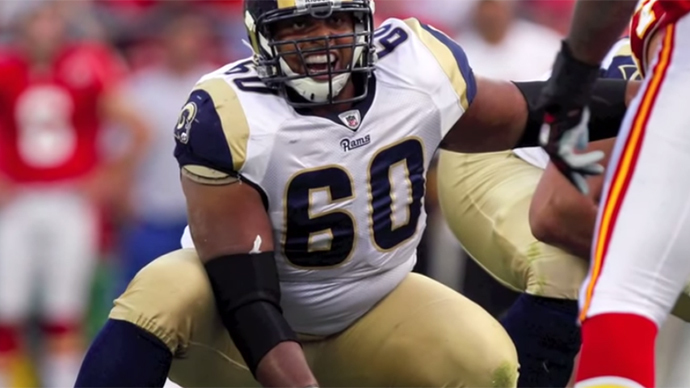 Making tens of millions of dollars simply playing a game may seem like a dream for most Americans, but former National Football League player Jason Brown gave up fame, the limelight and the cash for a chance to do something humbler: farming.
He's not just growing vegetables in his backyard, though. After retiring from professional football, Brown purchased a North Carolina farm totaling more than 1,000 acres, dedicated to the idea of growing food and giving it away to charities and those in need.
There was one small problem: the former NFL center didn't know a thing about farming.
Former NFL player Jason Brown walked away from $37 million contract to farm http://t.co/UEbC8lXTsGpic.twitter.com/VFXIN8GHy9

— Donald Broom (@donaldbroom) November 18, 2014
Up until that point, what he knew was football. Back in 2009, he had signed a contract with the St. Louis Rams for $37.5 million over five years. Brown was cut in 2012 and was fielding offers from other teams when he decided it was time to give it up for a different passion, regardless of how much he knew about farming.
After all, that's what YouTube is for. Brown watched online videos on the process in order to learn, and also gathered tips from local farmers in North Carolina.
"My agent told me, 'You're making the biggest mistake of your life,'" he said to CBS News. "And I looked right back at him and I said, 'No I'm not. No I'm not.'"
Just recently, he began harvesting 100,000 pounds of sweet potatoes – and he doesn't have a single regret over leaving the NFL.
"I went out to plow up the potatoes last week and looked behind the tractor. I don't know if I've ever seen anything quite as beautiful as those big brown potatoes lying everywhere," he said to the News & Observer.
One of the coolest stories I've seen in a while - Jason Brown left NFL to start a farm: http://t.co/xZcXAXkvhUpic.twitter.com/tLaiwIV8Be

— Tracy (@basketballista) November 16, 2014
In addition to sweet potatoes, Brown also grows cucumbers and other crops. Already, 46,000 pounds of sweet potatoes and 10,000 pounds of cucumbers have been given to food pantries and other charitable organizations.
"It's unusual for a grower to grow a crop just to give away," Rebecca Page, who helps coordinate the transfer of food to pantries, told CBS. "And that's what Jason has done. And he's planning to do more next year."
The Observer reports that next year, the crop will actually be even larger if Brown is successful. He's currently planning to double the amount of sweet potatoes grown, and is hoping that his efforts help solve a persistent hunger problem.
"Love," he said, "is the most wonderful currency that you can give anyone."
You can share this story on social media: