Made in Space: Zero-gravity 3D printer installed on ISS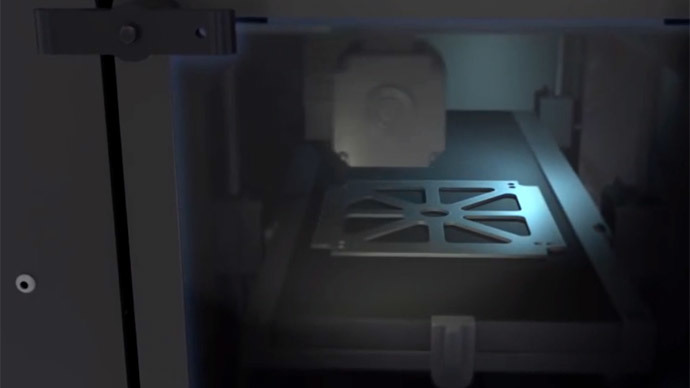 NASA astronauts on board the International Space Station have installed the first-ever 3D printer capable of creating three-dimensional objects in zero gravity conditions. The 3D printer is expected to become a reliable piece of in-space technology.
The printer, designed and manufactured by California-based startup Made in Space, was launched to the ISS in September aboard the SpaceX 4 resupply space mission.
"This is a very exciting day for me and the rest of the team," said Mike Snyder, the lead engineer of Made in Space. "We had to conquer many technical challenges to get the 3D printer to this stage."
3D printing involves extruding streams of metal, plastic or other material and welding it layer by layer to produce three-dimensional objects. To manufacture a 3D printer for use in space, Made in Space found solutions to adjust the technology to the next to no-gravitation conditions aboard the ISS.
The @Space_Station gets ready for #3Dprinting & preps for new trio launching on Nov. 23: http://t.co/UR3T4W6zBT#ISSpic.twitter.com/y7FyW7e64q

— NASA (@NASA) November 17, 2014
The possibility of in-space, on-demand manufacturing could be invaluable for future deep-space crewed missions.
It took Commander Barry Wilmore all of Monday to install the hardware, and now he will calibrate the printer and set up a demonstration of the Zero-G additive manufacturing technology, NASA reported.
The main task for the current experiment will be printing a series of engineering test coupons that will be returned to Earth for analysis and comparison to control samples manufacture on the same printer before it was launched to the ISS. On Earth, Made in Space's 3D printer was operating at NASA's Marshall Space Flight Centre in Huntsville, Alabama.
"This experiment has been an advantageous first stepping stone to the future ability to manufacture a large portion of materials and equipment in space that has been traditionally launched from Earth's surface, which will completely change our methods of exploration," said Snyder, the Made in Space engineer.
Commander Wilmore and his colleagues, Russian flight engineers Aleksandr Samokutyaev and Elena Serova, will soon be replaced by another trio, in the Expedition 42 launch, which is set to arrive at the ISS after launch from Baikonur cosmodrome in Kazakhstan on November 23, aboard a Soyuz TMA-15M spacecraft. The next crew of space researchers will work on the ISS until May 2015.