Ohio police allegedly kill mentally ill woman by slamming head on sidewalk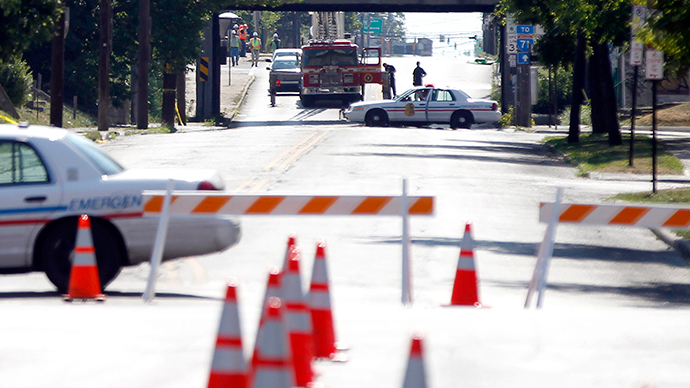 A mentally ill Ohio woman is dead after a Cleveland police officer allegedly slammed her head into the pavement right outside her family's home.
The incident began when Tanesha Anderson's family called police explaining she was creating a disturbance. The 37-year-old woman was mentally ill and suffered from bipolar disorder and schizophrenia. After police came to the house, a discussion followed in which it was agreed that Anderson would go to hospital for an evaluation.
Police reports and witnesses agree on what happened up until this point, but not on what followed next.
According to the family, officers went too far, and during a struggle one of them slammed Anderson to the sidewalk, where she died.
"They killed my sister," her 40-year-old brother, Joell Anderson, told the Cleveland Plain Dealer with tears in his eyes. "I watched it."
According to police, the officers escorted Anderson to a police vehicle, where she began to actively resist them. Officers placed her in handcuffs and tried to put her in the back of the squad car.
"The woman began to kick at officers," Sgt. Ali Pillow said in a press release. "A short time later the woman stopped struggling and appeared to go limp. Officers found a faint pulse on the victim and immediately called EMS."
Not just #Ferguson. 3 days ago #Cleveland cops killed #TaneshaAnderson, slammed her head on the ground, in handcuffs. http://t.co/ug8kZ2Pu2Y

— Shawn Carrié (@shawncarrie) November 16, 2014
However, Joell Anderson disagreed.
"She was more of a danger to herself than others," he said to the newspaper.
Anderson agreed that the two male officers escorted his sister to the car, but said she sat herself in the backseat before she became nervous about the confined space and tried to get out. Police struggled to keep her in the car, and an officer eventually drew a Taser. The brother said he begged the officer not to use the weapon on his sister.
READ MORE:NYPD officers indicted for assault on teenager, knocking teeth out with gun
Tanesha Anderson called out for her brother and mother while an officer repeatedly pressed down on her head to get her into the backseat. After several attempts, the officer used a takedown move to force her to the pavement, Joell Anderson said.
"The officer placed his knee on Tanesha's back and handcuffed her. She never opened her eyes or spoke another word," the brother said.
#TaneshaAnderson must get the same fight as #EricGarner#MikeBrown#JohnCrawford We will not accept another life taken by police violence.

— Million Hoodies (@MillionHoodies) November 18, 2014
Anderson described how he asked the officers for help with his unconscious sister, but they refused until a female officer called to the scene arrived. His sister lay on the sidewalk for 20 minutes until the ambulance arrived. Anderson was taken to Cleveland Clinic, where she was pronounced dead.
READ MORE:Ohio cops killed Walmart air gun-wielding man moments after confrontation, new video shows
The Cleveland Division of Police Use of Deadly Force Investigation Team is now investigating the case, but the officers involved have not been suspended or put on desk duty.
The medical examiner has not yet determined what killed Tanesha Anderson.
Add name to our list #TaneshaAnderson another #EricGarner situation, damn do we even call the police anymore4help! http://t.co/OvKedFqhhe

— LIFE IS PRECIOUS (@SMoKeeGyRL) November 17, 2014
READ MORE:US Capitol shooting: Police kill woman after she rams WH barricades, no weapon found
You can share this story on social media: