Woman who went through clinical death faces bankruptcy after being rushed to wrong hospital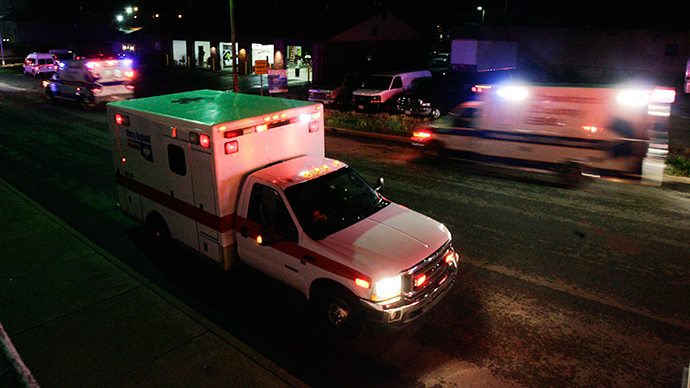 In cardiac arrest, a young Wisconsin woman was rushed to an emergency room last year. Her life was saved. She had insurance. The catch? She was taken to a hospital out of her network and now faces steep medical bills for the event and subsequent recovery.
Megan Rothbauer, 30, went to St. Mary's Hospital in Madison, Wisconsin last September in the midst of cardiac arrest.
"I was unconscious when I was taken to the hospital," she told Madison's News 3. "Unfortunately, I was taken to the wrong hospital for my insurance."
St. Mary's was out of her insurance network. Meanwhile, Meriter Hospital, just three blocks away, was in her network.
"I was in a coma. I couldn't very well wake up and say, 'Hey, take me to the next hospital,'" she said. "It was the closest hospital to where I had my event, so naturally the ambulance took me there. No fault to them. It's unfortunate that Meriter is in network and was only three blocks away from St. Mary's."
The difference comes down to a $1,500 maximum out-of-pocket expense versus the $50,000-plus in medical costs she now faces.
Some of Rothbauer's hospital bill - a total of $254,000 during 10 days in a medically-induced coma and six days in a cardiac unit - was paid by her insurance company through what's known as "balance billing" - or when a patient's medical cost is the balance between what a hospital charges and what an insurance company covers.
According to News 3, Blue Cross Blue Shield, Rothbauer's insurer, paid St. Mary's 100 percent of its in-network rate, which came to $156,000 of the $254,000 total. She then negotiated with St. Mary's to reduce the rest of her $98,000 hospital bill by 90 percent.
Yet these reductions don't include bills she received from the ambulance, her doctors, therapists, and others.
Rothbauer's insurance company blames the hospital for the high cost of services.
"(Rothbauer) received care by a hospital that is not in our Wisconsin network," Scott Larrivee, public relations director for Anthem Blue Cross Blue Shield, told News 3. "Since we have no contract with this hospital, we have very little influence over what the hospital is charging in this situation."
St. Mary's Hospital, meanwhile, underscored that much of Rothbauer's bill was relieved, and that her life was saved by its staff.
"When you're looking at saving a life, you're not looking at whether or not you can save them money," said Cyn Gunnelson, manager for Managed Care Contracting for the Wisconsin region of SSM Health Care. "I can only do so much. The hospital can only do so much. And I think the best outcome is the person walked away from the emergency room."
Rothbauer does credit the medical professionals at the hospital for helping her so. Nevertheless, she retains ire for the hospital's accounting department and her insurance company, as her bills have become overwhelming. She has had to postpone her engagement and work to figure out how to pay off the bills, whether by cashing out retirement accounts, taking out loans, or filing for bankruptcy.
"My hardest issue is I had no control and I still have no control over what is my future," she said. "I don't want this to happen to anyone else. I don't know if this can be fixed for me at this point, but I think it's unfortunate that it can happen to anyone."
While the Affordable Care Act does require insurers to pay the larger amount between in-network rates and costs covered by Medicare, the law does allow for balance billing to an extent that consumer advocates say is much too common.
"It's devastating for people who plan, who get insurance, get coverage, do everything they can and then, at 29, have a heart attack and get taken to the wrong hospital, and can't get married, can't do anything because they have to declare bankruptcy because they can't afford to have gone to the hospital," said Meg Gaines, head of the Center for Patient Partnerships, a consumer healthcare advocacy group at the University of Wisconsin-Madison Law School.
"I mean, it's not enough to worry about having a heart attack at 29, you end up with a secondary one or a stroke because of your medical bills. I mean, it's just ridiculous. The level of frustration is astronomical."