US knocks down ballistic, cruise missile targets in complex Aegis system test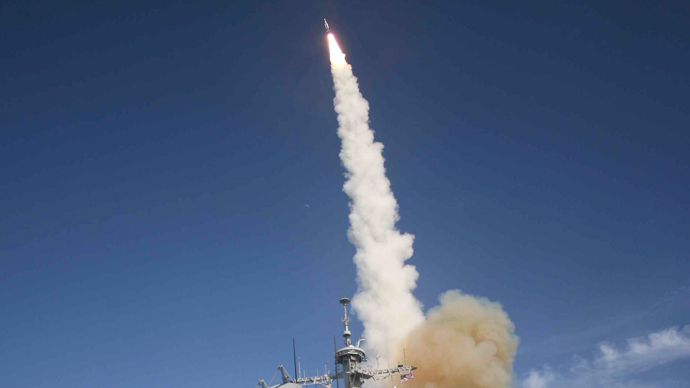 The US Navy has successfully tested an Aegis missile defense system, simultaneously destroying two cruise and one ballistic missile off the coast of Hawaii, in a demonstration of capabilities "no other nation in the world has."
"In partnership with the Missile Defense Agency, a US Navy destroyer successfully engaged ballistic and cruise missile targets simultaneously with a Raytheon-made Standard Missile-3 and Standard Missile-2s in a complex integrated air and missile defense exercise," Raytheon, a major American defense contractor said in a statement.
The test validated a new upgrade of the Aegis missile defense system built by Lockheed Martin Corp, the US Missile Defense Agency confirmed. It is due to be installed both on US Navy Aegis destroyers, in Romania next year as part of the "Aegis Ashore" system, sources told Reuters.
READ MORE:US commissions 'crucial' NATO missile shield facility in Romania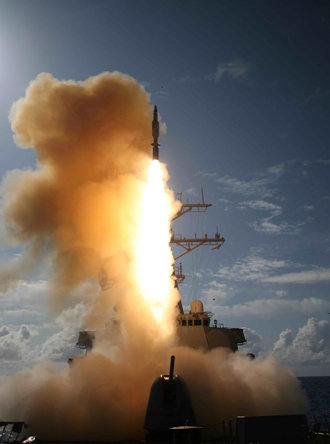 In a simulation of an enemy missile attack just after noon Hawaii time, a Navy destroyer USS John Paul Jones hit a short-range ballistic missile target with an "SM-3 Block IB" while the two cruise missile targets were taken down by two "SM-2 Block IIIAs".
"This test showcases the US' ability to defend against numerous ballistic and cruise missile threats in 'raid' scenarios," said Dr. Taylor W. Lawrence, president of Raytheon Missile Systems. "No other nation in the world has the capability to do what the US Navy and Missile Defense Agency demonstrated today."
The company claims that SM-3's kill vehicle is "a state-of-the-art projectile that destroys long-range ballistic missiles outside the earth's atmosphere using the sheer force of impact." SM-3s destroy incoming ballistic missile targets in space with an impact equivalent to a "10-ton truck traveling at 600 mph." Throttleable Divert and Attitude Control System is used to guide the missile towards the target.
Over 200 SM-3s are already deployed in the US military and Japan to date, the company says. Romania is to receive SM-3 Block IB to be deployed ashore in 2015.
Russia has questioned repeatedly whether the US missile defense program is targeted at withstanding strategic threats from countries such as Iran and North Korea as the US has maintained. Russia has instead suggested that it threatens its own ballistic defence capabilities and its general security.
READ MORE:Submerged Russian nuclear sub test-fires strategic Sineva missile
Last year Russia confirmed the deployment of Iskander ballistic missiles in the exclave of Kaliningrad which came in response to the development of the US missile defense system in Europe. In response to the transfer of a new military base in Romania to US command, Russia's representative to NATO recently said Russia would take further measures.
WATCH:Russian nuclear sub test-fires Bulava strategic missile
The latest US missile tests follow a series of Russian exercises in which the navy has test-fired a Bulava strategic nuclear missile from a submerged Borey-class submarine Yury Dolgoruky, while a Delta IV-class submarine Tula has successfully test-fired a Sineva strategic SLBM. In addition to the latest tests of SLBMs, Russia tested a silo-based Topol-M missile last week.
READ MORE:Inside Russian nuclear sub as it fires missile that can level a city (VIDEO)
You can share this story on social media: