Ex-NSA chief invested heavily in tech firm tied to AT&T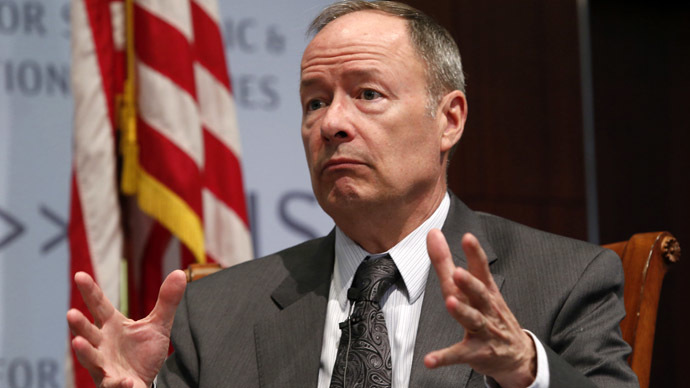 As questions continue to be raised about the legality concerning the National Security Agency's vast surveillance apparatus, the NSA's ex spy chief is now coming under attack for ties he had to a tech company while in office.
A report published on Monday this week by Shane Harris at the Daily Beast revealed that Gen. Keith Alexander, the recently retired head of the NSA, bought and sold tens of thousands of dollars' worth of stock in a firm called Synchronoss Technologies Inc. while he ran the United States' intelligence gathering agency.
According to financial disclosure forms reviewed by the Beast, Alexander invested in Synchronoss in 2008 during his NSA tenure as that very company was selling technology to AT&T that allowed the telecom to activate and lock Apple iPhones onto its network.
"The carrier was then the exclusive voice and data service provider for the popular new iPhone, so Alexander stood to profit every time someone bought an iPhone and automatically became an AT&T customer," Harris wrote. "The NSA also had its own special relationship with AT&T," he added. "Under secret court orders, the agency was then hoovering up the phone records of AT&T's subscribers and pouring them into a database of who called whom in the United States, stretching back several years"
Since leaving the NSA earlier this year, Alexander has come under fire time and time again not just for the surveillance operations he authorized as the head of the spy office, but for the relationships that have already been developed during his post-government career. Questions have since been raised about Alexander's new private sector company, IronNet Cybersecurity, after the firm hired a current NSA exec to work concurrently with that group and the government, and Alexander's monthly consulting fee, upwards of $1 million per client, has caused concern as well.
"I question how Mr. Alexander can provide any of the services he is offering unless he discloses or misuses classified information, including extremely sensitive sources and methods," Rep. Alan Grayson (D-Florida) of the House Foreign Affairs Committee wrote earlier this year to the Security Industries and Financial Markets Association (SIFMA) when it was revealed that they had retained the former spy chief. "Without the classified information that he acquired in his former position, he literally would have nothing to offer to you."
Now on the heels of Harris' report, Alexander is once again finding himself under fire.
"This isn't just a disturbing conflict of interest," Tom McKey wrote for News Mic this week. "The financial disclosures suggest that Alexander may have used his position at the center of America's intelligence apparatus for personal gain."
Alexander's contentious investments don't end there, however; according to Harris, the former NSA head had other unusual deals as well, including with the Aluminum Corporation of China Ltd., or Chinalco. Alexander traded shares in that company, again concurrently with his NSA job, but also in the midst of alleged cyber espionage conducted out of China.
"In other words, at the same time Alexander was selling off his stake in Chinalco, US intelligence was monitoring Chinalco and keeping tabs on other Chinese cyberspies," Harris wrote. "Indeed, just a few months after the hacking campaign against Alcoa began," an American company allegedly targeted by Chinese cyber spies, "the NSA's former inspector general gave an interview to National Journal, in which he blamed China for a massive campaign of cyberespionage against several U.S. companies, stealing trade secrets and proprietary information 'in volumes that are just staggering.'"
"Alexander was investing in a company that was in the crosshairs of his own agency's surveillance operations. If that had been known at the time, it would have raised questions about conflicts of interest and why the head of the NSA was taking personal stakes in a Chinese company," Harris insisted.
Meanwhile, the president of Synchronoss, Robert Garcia, recently relieved himself of some shares he had in that company. Coincidentally, Garcia sold 7,602 shares of his company's stock last week — a value of $367,936.80 — less than a week before Harris published details of Alexander's association with the tech firm.