#Notjust2parties: RT America presents special coverage of 2014 midterm elections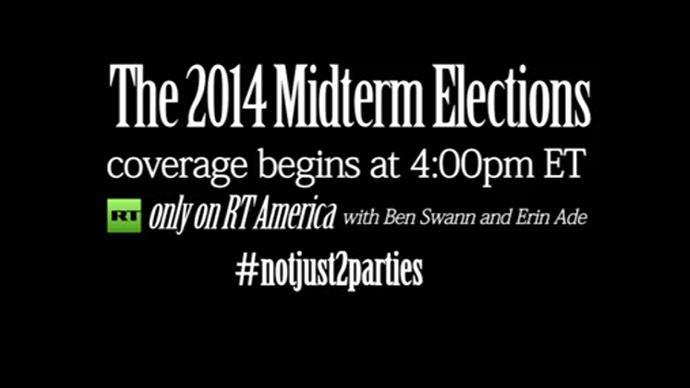 As Americans take to the polls on Tuesday to cast ballots during the 2014 midterm elections, RT will provide its audience with an alternative look at some of the races you'll be hard-pressed to hear about elsewhere.
RT will broadcast live Election Day coverage on November 4 starting at 4 p.m. ET from its various United States bureaus in order to bring our viewers up-to-the-minute updates from coast-to-coast as voters decide on issues ranging from marijuana decriminalization to the future of fracking, as well as what politicians will be picked to serve in Congress during the coming years.
While mainstream media channels will be busy counting Senate seats and projecting which of the two major parties will control the upper chamber of Congress, RT America offers a different view on the midterm elections. Tune in to RT on Tuesday evening to catch live reports from locations including Oregon, where voters will weigh in on a bill that could require genetically-modified foods to be labeled as such,and sunny Florida, where Libertarian gubernatorial hopeful Adrian Wyllie will discuss his efforts to provide residents with an alternative to the Republican/Democrat dichotomy this Election Day by way of a third-party run.
Additionally, RT is happy to have former Governors Garry Johnson (New Mexico) and Jesse Ventura (Minnesota), a Libertarian and Independent, respectively, take part in our discussions throughout Tuesday night.
RT's live midterm election coverage will run through 10 p.m. ET and include live updates throughout the evening provided by the likes of RT anchor Ben Swann, Boom Bust's Erin Ade and Edward Harrison, Thom Hartmann, host of The Big Picture, Breaking the Set's Abby Martin and others. Coverage will also include discussions on voter fraud, campaign ads and political dynasties, as well as ballot measures pertaining to immigration law, marijuana reform and more.
Viewers are encouraged to submit questions ahead of Tuesday's coverage and during our live broadcast by tweeting to @RT_America with the hashtag #Notjust2parties. Select questions will be asked throughout the evening.