​Crash dummies put on weight as obese Americans 'more likely to die' in accidents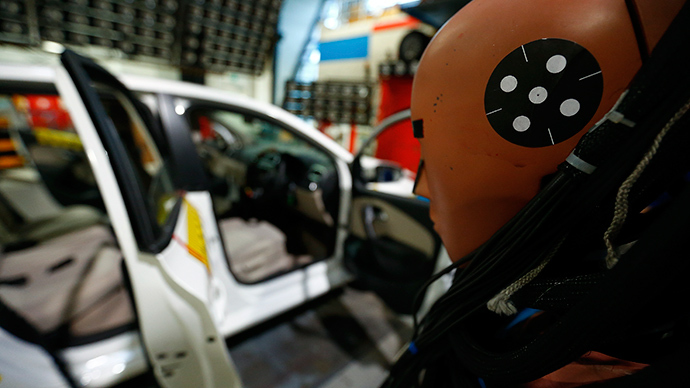 While health officials struggle to slow down the rise of obesity in the US, one car safety company is changing the design of its crash test dummies in order to more accurately reflect the size of the average American and warn of road risks for the obese.
Michigan-based Humanetics announced on Thursday that it is developing crash test dummies that will weigh 273 pounds and feature a body mass index (BMI) of 35. That is a significant increase over the size of current dummies, which typically weigh in at around 170 pounds.
"Obese people are 78 percent more likely to die in a crash," Humanetics CEO Chris O'Connor said to CNN during an interview. "The reason is the way we get fat. We get fat in our middle range. And we get out of position in a typical seat."
One of these heavy dummy prototypes has already been developed and made available to cooperating car companies and universities, O'Connor added to Crash Test Technology International. These dummies mark an important advancement for testing, he said, because people with a BMI over 35 are 51 percent more likely to die in a crash
According to statistics from the Centers for Disease Control and Prevention, more than one-third of Americans are obese. The agency defines "obese" as an individual who weighs more than 203 pounds and has a BMI of at least 30. As of 2008, the cost of obesity on the US medical system was $147 million per year.
depressing sign of US obesity: fat crash test dummies http://t.co/Ejfbxb3pOy Obese crash test dummy = 270lbs / BMI 35 pic.twitter.com/k9LBq32MjG

— Clark (@clarkchambers) October 30, 2014
In addition to being able to test for larger individuals, the new crash test dummies also feature other innovations.
"The newest dummies can have over 130 channels of information," O'Connor said to CNN. "So the amount of data is up four or five times what it could years ago."
Despite these advancements, car accidents are also starting to be simulated effectively by computers, meaning it is possible that physical dummies may eventually be replaced with digital testing. With analysts noting that car injuries are also more likely to occur in older people, age is something that could potentially be accounted for more efficiently in computer programs.
Dr. Joel Stitzel, the director of the Center for Injury Biomechanics, said these programs could allow designers to test various scenarios that wouldn't be available to them with real dummies.
"It allows manufacturers to see things that dummies can't tell them," he said, "and they can more easily modify virtual models, such as adding subcutaneous fat to simulate larger people."
You can share this story on social media: