Airplane crashes into airport building in Wichita, Kansas (PHOTOS, VIDEO)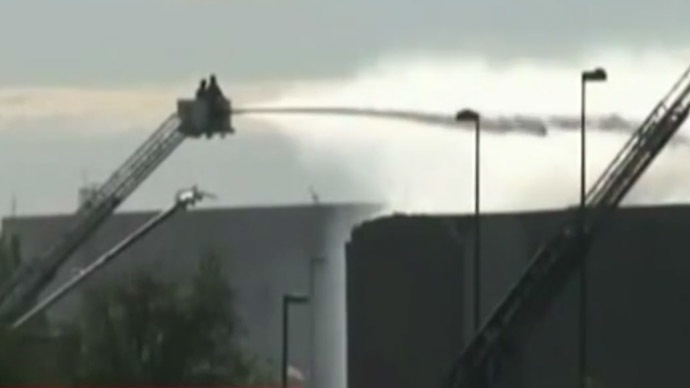 An airplane crashed into a two-story building at an airport in Wichita, Kansas early Thursday shortly after takeoff, leaving at least four people dead and five injured.
The 10-seater, twin-engine plane struck a building at Wichita's Mid-Continent Airport at around 9:50 a.m. local time Thursday. Eyewitnesses at the scene have since posted photographs on the social media site Twitter of huge plumes of black smoke rising into the sky from the site of the crash.
Ron Blackwell, the chief of the Wichita Fire Department, said during a press conference shortly after 11 a.m. that authorities can confirm two fatalities, and said a search was ongoing. Five people at that time were unaccounted for, Blackwell said, and five had been transported to a local hospital with serious injuries.
That afternoon, the Associated Press reported that the death toll climbed to four.
A local NBC News affiliate reported shortly after that one person is listed critical condition as a result of the incident, and confirmed that the plane in question is a Beechcraft that lost an engine during takeoff, citing the Federal Aviation Administration (FAA).
UPDATE: Wichita Mid-Continent Airport - picture of the point of impact pic.twitter.com/2MhrqQaoRC - @ThorpeDave

— AirLive.net (@airlivenet) October 30, 2014
Around 45 minutes after the crash occurred, the FAA said in a statement that the aircraft crashed while attempting to return to the runway shortly after takeoff.
Ryan Weatherby, a witness, told the Kansas City Star that the airport building started on fire once the plane hit. First responders have since descended on the scene and the building has been evacuated.
As many as 13 people may have been onboard the plane at the time of the crash.
Plane crashed into Flight Safety right across the street from my father-in-law! #Wichita#Kansas@KWCH12pic.twitter.com/4jxn4c12Ky

— Tracey Weaver ąཞɬ (@mojorisinhi) October 30, 2014
Plane crash at @flyict. You can see the smoke from the crash from a couple miles away. Follow @KAKEnews for info pic.twitter.com/KDL7JEPNzK

— Annette Lawless (@AnnetteLawless) October 30, 2014
BREAKING PHOTOS: a plane has crashed into a flight safety building in Wichita, Kansas pic.twitter.com/Cg9Ch5yWS7

— John Galt (@JohnGGalt) October 30, 2014
You can share this story on social media: