Obama in Wisconsin: 'You can only vote once. This isn't Chicago' (VIDEO)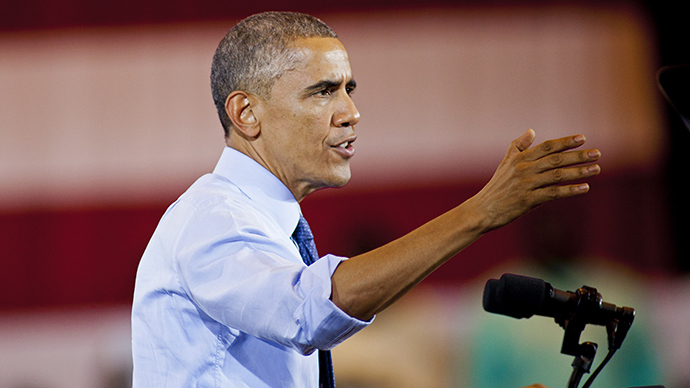 More than 50 years after the city of Chicago was accused of allowing voter fraud to impact the 1960 presidential election, the current commander-in-chief made a quip about those allegations during a campaign event this week.
United States President Barack Obama was speaking at an event in Wisconsin for Democratic Party gubernatorial nominee Mary Burke on Tuesday night when he made a rare disparaging remark about his former hometown.
"One week from today you get to choose a new governor. And because early voting runs through this Friday, you don't have to wait until Election Day," Obama said at the Milwaukee, WI event. "You can vote all week."
"I mean you can only vote once, this isn't Chicago now," Obama added with a chuckle. "I'm teasing Chicago, I'm messing with you. That was a long time ago."
Presumably, Pres. Obama was referring to the allegations that have long plagued the Windy City concerning supposed voter fraud during the 1960 election won by John F. Kennedy. During that race for the White House, Richard Nixon, a Republican, won more individual votes than his opponent from coast to coast, but failed to secure as many electoral votes as Kennedy, a Democrat, who ultimately won the election by finishing first in Illinois and receiving the state's electoral tallies.
Today, historians still argue that Nixon would have won the race had Kennedy not came out on top in Illinois, where he beat the Republican by fewer than 9,000 individual ballots. For decades, skeptics have suggested that Chicago Mayor Richard Daley, a Democrat, played a critical, and perhaps unethical, role in winning the state for Kennedy.
"The 1960 race was unquestionably close. Some states — like California — initially fell into Kennedy's electoral count, but were reversed almost two weeks later after absentee ballots were counted. But the core questions about the election centered on rumors of fraud, primarily in Illinois, where Democratic Mayor Richard Daley's powerful political machine controlled voter-heavy Chicago, and Texas, where vice presidential candidate Lyndon Johnson was a senator," Gerald Posner wrote for Salon in 2000 amidst a scandal surrounding that year's race between Al Gore and George W. Bush. "Rumors of impropriety existed before the election. After the election, when Illinois went for Kennedy by fewer than 9,000 votes, and Texas by just over 40,000, Republicans cried foul," Posner wrote.
David Greenberg, a professor of history and media studies at Rutgers, has also weighed in previously about the allegations of voter fraud. "Even before Election Day, rumors circulated about fraud, especially in Chicago, where Mayor Richard Daley's machine was known for delivering whopping Democratic tallies by fair means and foul," he wrote for an essay published by Slate in 2000. "When it became clear how narrowly Nixon lost, outraged Republicans grew convinced that cheating had tipped the election and lobbied for an investigation."
Meanwhile, a Fox News affiliate in Chicago reported this week that a city alderman in Chicago is coming under attack announcing on Facebook that residents of the city's Fifth Ward would be entered to win gift cards to area establishments if they shot proof-of-vote following next month's election. According to an election attorney reached by the network, offering such a deal constitutes a Class 4 felony.