MenswearDog with $15k smile meets fans at NYC dog parade (VIDEO)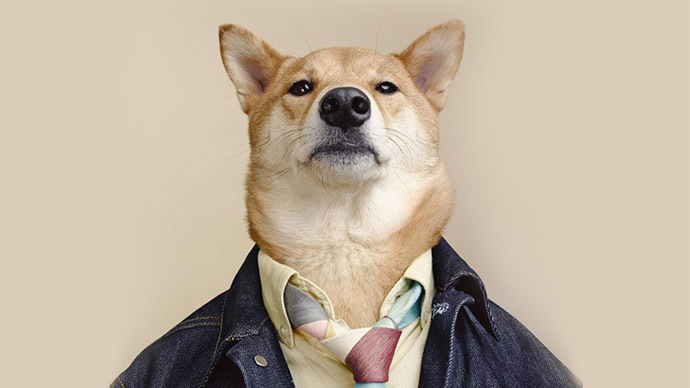 A trending dog model Bodhi, better known by his stage name MenswearDog, has attracted dozens of fans for a photo-op at the annual Halloween Dog Parade in NYC. The stylish Shiba Inu was dressed as James Dean, with a red jacket and a white shirt.
"This is Bodhi, his real name is MenswearDog. Dave is his dad. He is here as James Dean from 'Rebel without a Cause' so he's wearing that red jacket, iconic, with a white shirt. This is his motorcycle," Yena Kim, the owner of the celebrity dog told RT's Ruptly at the annual Tompkins Square Halloween Dog Parade in New York City.
Bodhi has become one of the most famous "dog models" on the internet after his owners Yena Kim and David Fung put a picture of him suited up on Facebook, as a joke. Soon the image went viral and he eventually earned enough money as a model to allow Kim and Fung to leave their jobs last year.
Menswear Dog is always on time with the I.N.O.X watch from @Victorinoxhttp://t.co/WtDb124avo' #Victorinoxpic.twitter.com/SBeDS6IrxM

— Menswear Dog (@Mensweardog) September 12, 2014
The best fashion week accessory = A killer wink #nyfw#feelgoodfridays#winkpic.twitter.com/NtgfiTihvy

— Menswear Dog (@Mensweardog) September 5, 2014
In a recent interview for the magazine Fast Company, his owners claimed that MenswearDog makes $15,000 a month thanks to his success in the social media.
Summer Rufftop MWD chillin' on the rooftop with buddies and Beggin' Strips #mensweardog #menswear #dog #summer #begginpartner #beggintime @beggin
"Between the photo contracts, guest appearances and sponsored posts on Tumblr and Instagram, a good month for Menswear Dog earns the couple somewhere in the ballpark of $15, 000," the author of the article wrote. "When I asked what a bad month looks like, Fung and Kim say they haven't seen less than $10,000 in 'quite some time.'"
Lucky Dog #powerofcolor@revlonpic.twitter.com/zfY71X227z

— Menswear Dog (@Mensweardog) June 7, 2014
8 Follow-Worthy Personal Projects on Instagram. (Photo by @Mensweardog) http://t.co/NrZl7Epiqfpic.twitter.com/ioJYZkC2fa

— PhotoShelter (@photoshelter) July 23, 2014
The 5-year-old Shiba Inu, Bodhi's breed has more than 150,000 followers on Instagram and over 200,000 followers on Tumblr. Bodhi success has earned him favors from Coach, Salvatore Ferragamo, Purina, and many more brands. The dog also appeared in GQ, Time, and Esquire magazines.
Bodhi's Birthday Brunch Menswear Dog celebrates his 5th birthday with a smile and a slick suit #mensweardog #menswear #dog #birthdaybrunch #begginpartner #beggintime @beggin
On Saturday, dozens of motley-dressed pooches showed up at the 24th Annual Tompkins Square Halloween Dog Parade in New York, one of the largest dog costume parades in the world.
The canines came as the pope, a go-go dancer, sushi, a race car driver and even walking tacos. Teddy Roosevelt, Harry Potter's 'snitch' and a mystery machine also made an appearance in dog-form.