Emergency authorization: FDA approves two new Ebola-detection kits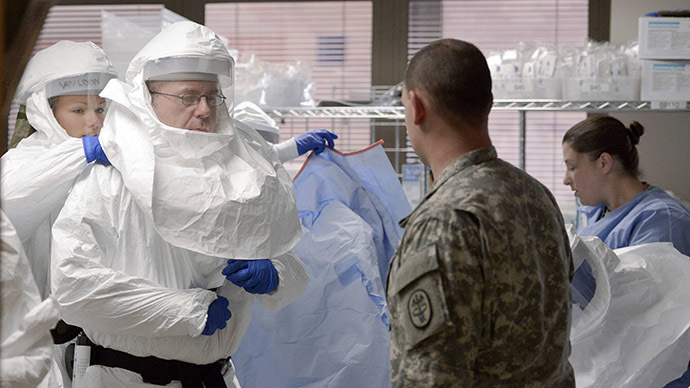 The US medical watchdog has issued an emergency authorization for the use of two new diagnostic toolkits by BioFire Defense designed to detect Ebola virus in people showing signs of infection or those who could have been exposed to the virus.
"The BioFire Defense FilmArray NGDS BT-E Assay is for use by laboratories designated by the Department of Defense," US Food and Drug administration announced.
#BioFireDX FilmArray #Ebola test just received FDA Emergency Use Authorization and is on its way to New York.

— BioFire Diagnostics (@BioFireDX) October 25, 2014
The other, FDA says is the BioFire Defense FilmArray Biothreat-E exam to be deployed by laboratories "to perform moderate complexity tests" and "high complexity tests." The Biothreat-E test allows laboratories "to conduct a PCR test for Ebola in-house, without having to send the sample to an outside lab."
READ MORE:NY, New Jersey issue mandatory Ebola quarantine for risk travelers
The latest measures to try to prevent the spread of Ebola follow three emergency authorizations by the FDA earlier this autumn. One was developed with the Department of Defense and two with the Centers for Disease Control and Prevention.
The latest diagnostic tool called FilmArray was developed by BioFire Defense, a US government biomedical contractor based in Salt Lake City. It can analyze samples from the bloodstream, respiratory system or gastrointestinal tract, without having to send the sample to an outside lab.
#ECCMID bioFire stand with Filmarray system (multiplex PCR) & respiratory, GI, blood culture ID panels. Drop in 2C us pic.twitter.com/9ljMt2LPjy

— bioMérieux SA (@biomerieux) May 12, 2014
The box, the size of a toaster scans for Ebola alongside a number of other viruses. "It will take the Ebola cells, break them open, expose the [ribonucleic acid] in the Ebola and match those with a target we've identified," BioFire reps said in a statement to DefenseOne.
#Ebola/17 other #Pathogens 1Test/1 Hr #BioFire's #FilmArray#BioSurveillance Automated #BioDetection#LifeStylesNCarepic.twitter.com/eOCY45r2Sh

— LifeStyles Care (@LifeStylesNCare) October 19, 2014
Last March, the Pentagon awarded BioFire Defense an eight-year contract worth a $240 million, to expand FilmArray into a broader biological warfare detection system, Salt Lake Tribune reports. The FilmArray system, which costs $39,500 takes two minutes to load a sample and about an hour to analyze human blood or saliva on a molecular level.
"We understand the importance of quickly diagnosing Ebola cases in the US and abroad. FDA is committed to working with companies in the most expedited manner to increase the availability of authorized diagnostic tests for Ebola for emergency use during this epidemic," the FDA said Saturday.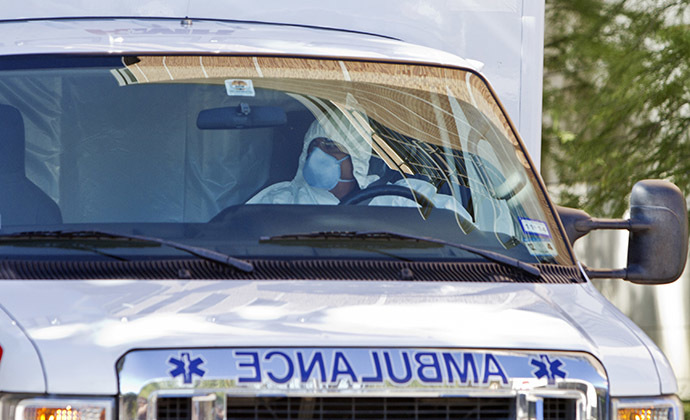 Earlier this month, the assistant secretary of defense for Nuclear, Chemical and Biological Defense Programs Andrew C. Weber claimed that the Pentagon is better prepared for a possible Ebola outbreak because "it has accelerated aspects of its medical countermeasures program established to protect troops from biological warfare agents."
Weber said, "the whole family of programs that we're accelerating now for the Ebola response has been an ongoing investment of this department and the Department of Health and Human Services."
Saturday's announcement by the FDA comes after the US state of Illinois joined New York and New Jersey in imposing a mandatory quarantine on those travelers who have been in contact with Ebola patients in Liberia, Sierra Leone and Guinea. Others who travel from the region and haven't had direct patient contact will be quarantined only if necessary.
Less than 0.1 percent of the 275,000 daily air travelers to the US come from the three countries affected by the outbreak, Bloomberg reports. All are now required to enter the US through five US air hubs with enhanced screening – JFK, Newark Liberty, Washington Dulles, Chicago O'Hare and Hartsfield-Jackson Atlanta.
You can share this story on social media: