Washington school shooter fired at family, killed classmate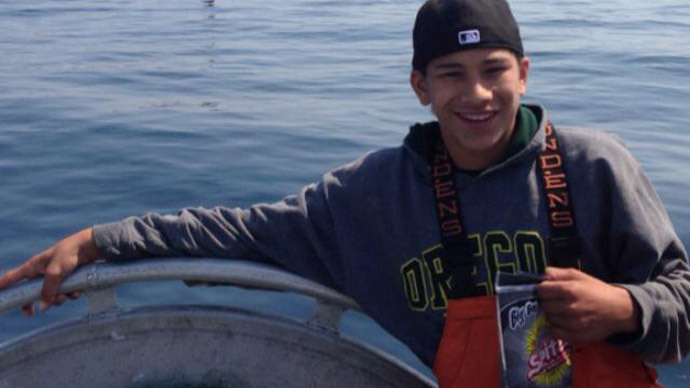 The shooter responsible for killing one classmate and injuring four others at Marysville-Pilchuck High School in Washington state has been identified as Jaylen Ray Fryberg. Two of the injured appear to be his cousins.
It has been established that student Jaylen Fryberg was the gunman, a government official with direct knowledge of the shooting told AP on condition of anonymity.

Fryberg was earlier identified as the shooter by his family members and other students, who said the young man was a member of a prominent family from the local Tulalip Indian tribes.
Marysville police, however, declined to confirm the shooter's identity.
READ MORE: Two dead from high school shooting in Washington state
Incoming reports by KIRO TV reporters Amy Clancy and Deborah Horne state that two of Fryberg's victims were his own cousins: Andrew Fryberg and Nate Hatch. Relatives have apparently confirmed their identities and noted that three family members are either dead or have been injured, including the shooter.
Just in: #MarysvilleShooting family confirmed Shooter Jaylen Fryberg and victim Andrew Fryberg at Harborview are cousins. @KIRO7Seattle

— DeborahHorne (@DeborahKIRO7) October 24, 2014
The shooting at the Washington state school was first reported around 10:45 am on Friday, with local police reporting two people dead, including the suspected shooter, Fryberg. Multiple reports state that Fryberg, a freshman who was voted homecoming king earlier this month, shot five people before killing himself with a "self-inflicted gunshot wound."
Fryberg identified himself as a Native American on his social media accounts, and some pictures portray him hunting with and using rifles. He was reportedly a recent victim of bullying.
Four students – two boys and two girls – have been hospitalized so far with head wounds, with three undergoing surgery. The other student victim has yet to be identified.
Meanwhile, police told CBS News they are attempting to trace a Beretta 40 caliber handgun that they suspect Fryberg used to carry out the shooting.
The incident reportedly began after Fryberg walked into the school's cafeteria, witness Jordan Luton said to CNN. Fryberg allegedly walkted towards a table of students, "came up from behind ... and fired about six bullets into the backs of them," witness Jordan Luton said to CNN. "They were his friends, so it wasn't just random."
Family of Jaylen Fryberg has identified boy as gunman in #MarysvilleShooting, via @RobKIRO7http://t.co/idy37XXVtWpic.twitter.com/RWtEqGoS0d

— KIRO 7 (@KIRO7Seattle) October 24, 2014
Another student, 15-year-old Jarron Webb, told the Seattle Times that Fryberg was upset when a female student declined to date him. This girl was one of the students that was shot, Webb said, adding that another victim was a friend of Fryberg's dating back to kindergarten.
Fryberg's Twitter postings throughout several days leading to the shooting indicate he was in despair.
It breaks me... It actually does... I know it seems like I'm sweating it off... But I'm not.. And I never will be able to...

— Jaylen Fryberg (@frybergj) October 21, 2014
His most recent post, a day before the shooting, reads: "It won't last..."
It won't last.... It'll never last....

— Jaylen Fryberg (@frybergj) October 23, 2014
The shooting however came as a surprise to many students, some of which described Fryberg as a popular individual.
"Everybody knew him. Everybody liked him," Bryce Vitcovitch, a member of the school's football team, said to KING 5. "This is just a huge shock to everybody. For the most part, he was a really happy kid."
"@ClancyKIRO7: Marysville shooter Jaylen Fryberg is a member of the Tulalip Tribe @KIRO7Seattlepic.twitter.com/veuHYFAVON" #MPHS

— DeborahHorne (@DeborahKIRO7) October 24, 2014
Another student named Alan Perez recalled a fight that broke out between Fryberg and another student over a racist comment, but expressed surprise over the violence on Friday.
"I'd understand if he was angry about that, but other than that, he wasn't bullied or anything like that," Perez said, according to NBC. "He seemed like he was really happy. He seemed like a popular kid."
Family members praying. Told me they are related to the suspected shooter at #Marysville Pilchuck HS @KIRO7Seattlepic.twitter.com/I7u97aAUNd

— Rob Munoz (@RobKIRO7) October 24, 2014