Wrong head: NYPD cop kicks fellow officer, mistaking him for suspect (VIDEO)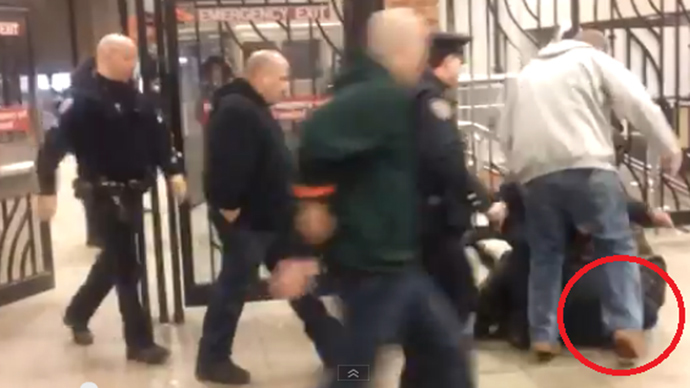 A New York cop is being investigated after kicking a fellow officer in the head, US media discovered. Police were arresting a fare-dodger on the subway when one officer got confused, striking his colleague instead of the suspect.
The two officers seemed to have the situation under control at the Coney Island subway station in Brooklyn. However, a burly plain-clothes cop wearing a gray sweatshirt apparently wanted a piece of the action, launching a strong right footer to the head.
The only problem was that he managed to connect with a fellow cop rather than the alleged fare-evader. The kick was so hard, that it could actually be heard on the footage.
After about 10 seconds, the undercover cop - who has not been named - realizes he may have made a mistake and taps his bewildered colleague on the head. However, not content with harming his fellow officer, he then plants a right hook straight into the head of the suspect, before lying on top of him.
The incident happened back in January and was filmed by professional photographer Rod Patrick Risbrook. The video was circulating on Google Plus for some time before being taken down, but resurfaced at DNAInfo.
Risbrook said that six officers were involved in pinning down the suspect, who was just a skinny teenager.
"He looked skinny, young, maybe somewhere between 17 and 20. No older than 22," he said, as quoted by the New York Post. "They were punching him. He was being hurt. It wasn't until they got him up that he said something like, 'This is how they do! You see what's going on here?'"
According to DNAinfo, the cop in question has been put under investigation by the Internal Affairs Bureau.
The incident is also being investigated by the Brooklyn District Attorney's Office, with DA Ken Thompson saying, "My office is working with Commissioner Bratton to ensure that every member of the community is treated with dignity and respect," as reported by the New York Post.
The undercover officer, who did the kicking has been temporarily stripped of his gun and badge and is on leave from work. Meanwhile, the teenager at the center of the storm pleaded guilty to fare-dodging.
On Wednesday, hundreds of civilians marched on Times Square in New York to protest against police brutality. The event was organized by the Stop Mass Incarceration Network, and was dubbed the 'National Day of Protest to Stop Police Brutality', which highlighted the recent death of Eric Garner, who was killed this summer after a New York Police Department officer placed him in a chokehold.
Relatives of other local victims were also present, including Nicholas Heyward, whose son was shot by an officer mistaking his toy gun for a real one 20 years ago, and mother Hawa Bah, whose son was shot inside his apartment in 2012.