Ax-wielding man with 'Islamic extremist leanings' attacks 4 NYPD officers in broad daylight (VIDEO)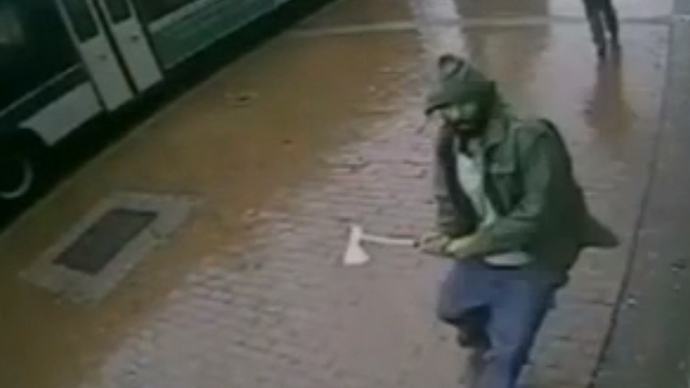 New York City police have shot dead a man with a hatchet who attacked a group of policemen in broad daylight on a busy street in Queens. The man is reported to have had "Islamic extremist leanings."
The man, identified as Zale Thompson, previously posted statements on YouTube and Facebook that "display a hyper-racial focus in both religious and historical contexts, and ultimately hint at his extremist leanings," the SITE monitoring group said, as quoted by AFP.
Following the incident, one policeman is being treated for a serious head wound, the NYPD stated at a news conference, as cited by AP.
CCTV footage shows that the man, about 32 years old, intentionally attacked four patrol officers. While the officers were posing for a photo, the man tried to hit an officer with the hatchet, and the policeman blocked his blow. Then, the man hit another officer in the back of the head, who fell to the ground.
When the man attempted to make another blow, the two uninjured officers fired several rounds at the assailant, killing him. A 29-year-old female bystander was also shot in the back.
Prior to the attack, the man crouched on a street corner and pulled the tomahawk out of his backpack. The attack happened at around 2pm.
The 25-year-old officer who was injured in the head is currently in a critical condition.
Asked if the attack could be terrorism-related, NY Police Commissioner William Bratton stated that "this early on, we really cannot say 'yes' or 'no' to that question."
The statement comes just over a day after the attack on the Canadian Parliament Hill and the shooting at the National War Memorial in Ottawa. Three people were wounded in the shooting, and the gunman killed at the scene.