California prison system agrees to end racial segregation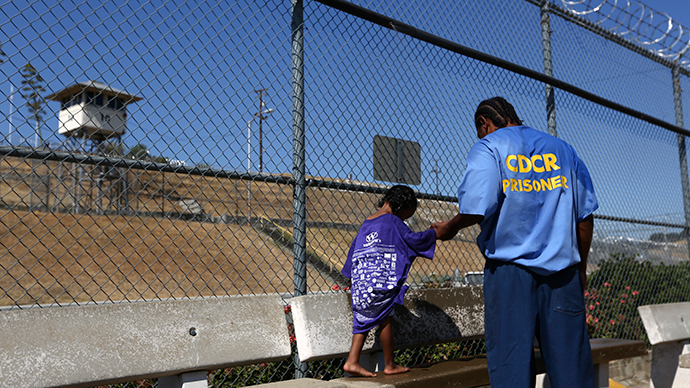 An agreement reached this week in California will see that prison officials are no longer allowed to segregate inmates by race in the event of lockdowns at facilities across the state.
The Los Angeles Times on Wednesday published a stipulated settlement reached between the state's prison system and a group of inmates that should once and for all resolve a long-standing class action suit filed High Desert State Prison inmate Robert Mitchell in 2008.
According to the Times, Mitchell claimed in a 2008 filing that it was the California Department of Corrections and Rehabilitation's policy that "when there is an incident involving any race, all inmates of that race are locked up." The instance that spawned the suit, an inmate-on-guard attack in 2006 at High Desert, left all black detainees confined to an African American-only wing of the facility for 14 months, solely because of race, which prison officials argued was necessary to control violent prison gangs that are often ethnicity-exclusive. Once the agreement posted by the paper this week becomes official, then that will change.
"The parties have conducted extensive negotiations over several months to resolve Plaintiffs' demands that CDCR change its statewide policies and practices concerning modified programs and lockdowns," the settlement reads in part. "Those negotiations have been undertaken at arm's length and in good faith between Plaintiffs' counsel and high-ranking state officials and their counsel. The parties have reached agreement on statewide policies and practices that CDCR has already begun to implement to settle Plaintiffs' claims for declaratory and injunctive relief. The parties freely, voluntarily, and knowingly, with the advice of counsel, enter into this Stipulation for that purpose."
Specifically, the settlement says the CDCR will no longer implement race-based modified programs or lockdowns, and that, instead, security measures taken to control inmates in certain circumstances will be imposed based on individualized threat assessments.
"CDCR will only place an inmate on a modified program that impacts a security threat group if an individualized review of that inmate's central file indicates an affiliation, based on sufficiently reliable and current information, with the security-threat group impacted by the modified program," it reads.
Additionally, the settlement stipulates that inmates subjected to any sort of lockdown must be allowed to partake in outdoor activity time if the duration of the period exceeds 14 days: a major change given that, according to the Associated Press, prison officials in the Golden State impose more than 600 lockdowns in an average year.
"The prisons will still be able to maintain security, while prisoners will no longer be targeted for lengthy lockdowns just because of their race or ethnicity," Rebekah Evenson, an attorney for the prisoners, said of the agreement in a statement to Reuters.
"We see this as a tremendous result," Evenson told the Times.
A federal judge is expected to next review the agreement at an upcoming hearing, Reuters reported, and will then likely approve it.