'Don't touch my girlfriend!' Protective boyfriend warns Obama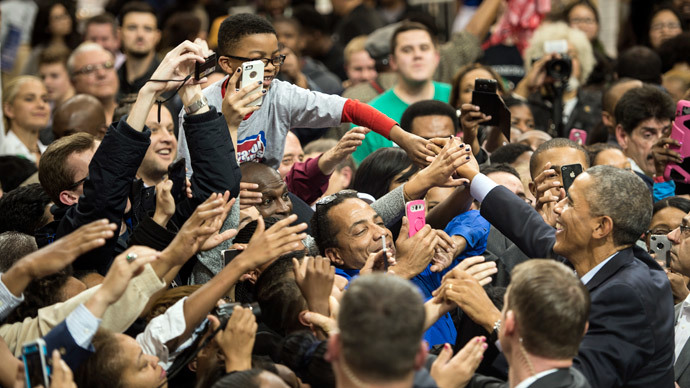 An exchange between President Barack Obama and a Chicago voter went in an unexpected direction when a woman's boyfriend launched a warning over getting too cozy with his fiancé – all of which was captured on video.
As President Obama cast his midterm ballot in Chicago on Monday, a protective boyfriend named Mike casually told him not flirt with his fiancée, who was casting her ballot next to the President. The exchange was captured on video by CNN affiliate WLS-TV.
In the video, we hear the voice of Mike say, off camera, "Mr. President, don't touch my girlfriend."
Obama responded with his head down, saying, "You know, I really wasn't planning on it."
Notably embarrassed, Mike's fiancée, Aia Cooper, laughed and said, "I'm sorry, please excuse him."
"There's an example of a brother just embarrassing me for no reason. Just for no reason what-so-ever," said the President, also laughing. "Now you're going to go home talking to your friends about this." Cooper added: "I knew he was going to say something smart. I didn't know he was going to say that."
READ MORE:Artist behind iconic Obama poster sentenced to two years' probation
Obama closes the exchange by giving hugging Cooper a hug and giving her a kiss on the cheek. "You're gonna give me a kiss, give him something to talk about. Now, he's really jealous."
READ MORE:Saturday Night Live censorship - stars complain about lack of Obama jokes
Too funny. Guy tells Pres. Obama "don't touch my girl" http://t.co/6wwFTVWkVu

— Jennifer Dixon (@JDixon215) October 21, 2014