Ebola diagnosis in 10 minutes: researchers working on tool to curb global epidemic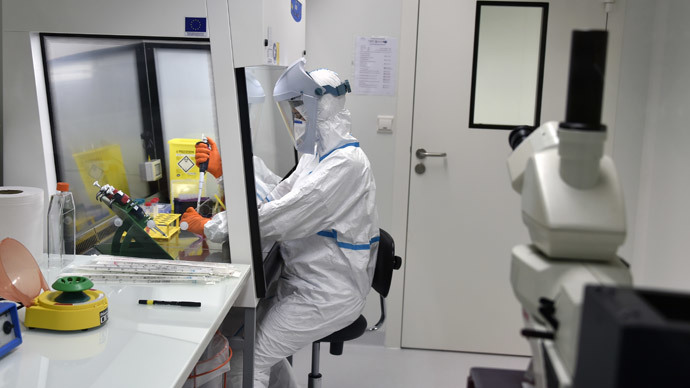 Researchers in the United States are using millions of dollars in government funding to perfect a rapid diagnostic test that should be able to positively identify the presence of the deadly Ebola disease in patients in only ten minutes' time.
Nonetheless, scientists at Broomfield, Colorado's Corgenix Medical Corp. say they don't expect regulators in the United States to green-light their new testing system until next year amidst the ongoing research currently being conducted in their labs amongst the worst's Ebola epidemic to ever surface.
"I think it's the best technology for the job that's needed," Matt Boisen, a program director at Corgenix, told a CBS News affiliate this week. "It improves the possibility of them surviving."
In June, the US National Institutes of Health awarded Corgenix a three-year, $2.9 million grant to be used towards developing an Ebola rapid diagnostic test kit. An outbreak of the often-deadly disease has only worsened during those three-and-a-half months, however, and no fewer than three Americans are currently being treated for the virus after it first surfaced in the US in late September.
Corgenix researchers say the test they're developing works like a pregnancy test and can quickly identify whether or not a patient has contracted Ebola using a blood sample in only 15 minutes. Optimistically, the product may be able to save thousands, perhaps millions of lives if the current outbreak worsens and cases continue to be spotted in the US. According to a report published earlier this month by the Daily Beast, however, researchers are "at a standstill" until their certain the tests are 100 percent accurate.
"We have to prove that it works," Dr. Bob Garry, a scientist at Tulane University working with Corgenix on the tests, told the Beast. "The timing is what's holding us up."
Nevertheless, some involved in the research say that health officials needn't 100 percent certainty when evaluating possible Ebola patients and should begin embracing the rapid tests regardless.
"If you have a positive, even if it's a false positive, you're erring on the side of caution. That is good," Dr. Alan Wu, a chemistry lab director at San Francisco General and professor at lab medicine at University of California-SF, told the Beast.
"Not having to wait would help internationally slow and quell this outbreak exponentially," Dr. Frank Welch, the medical director for community preparedness at the Louisiana Office of Public Health, added to the Mississippi Press this week. "There is no bad news with having this test."
Currently, only a handful of medical facilities in the US have the capability to test for Ebola, and the absence of widespread standards in the midst of the record-breaking outbreak has not gone without comment: the executive director of National Nurses United wrote in the Washington Post recently that "Only greater integration and the authority of a public health system with national, uniform standards can protect Americans," and Dr. Tom Frieden, the director of the Centers for Disease Control and Prevention, said on Tuesday this week that the CDC is developing response teams that could be deployed "on the ground within hours" should further Ebola cases be confirmed in the US.
It takes upwards of three weeks for infected patients to begin showing signs of Ebola, the CDC says, and the infrastructure in place in the US for conducting tests once symptoms appear may take days since, currently, blood samples can only be properly analyzed at select American facilities. Frieden's plan to assemble rapid response teams aims to change that.
Already, though, American Ebola victims are growing in numbers. On Wednesday, officials in Dallas, Texas confirmed that a second health worker has contracted the deadly virus and was hospitalized within 90 minutes of complaining of symptoms. Nina Pham, a Dallas nurse, is currently being treated for the virus in an area hospital after she was diagnosed with the disease last week; Pham is believed to have contracted the disease from Thomas Eric Duncan, a 42-year-old Liberian national who died in the US last Wednesday after being treated in Dallas. Separately, an American photographer for NBC News is being treated in Nebraska for Ebola currently after catching the disease while on assignment last month in West Africa.
Boisen of Colorado's Corginex said that his team's product in-progress can confirm the presence of Ebola in only 15 minutes, and is already being used to detect Lassa, a similar virus, spreading in West Africa.
"It can be done in the field in a difficult environment like West Africa, Central Africa and results are available very quickly," company CEO Douglass Simpson told CBS 4.
As fears worsen of a domestic epidemic in America, however, Corgenix officials says regulators in the US won't be ready anytime soon to approve the product for use in the States.
"What if the CDC said we need to speed this process up. Could you do that? We're in sixth gear now. We're going as fast as we possibly can," Simpson said. "It is safe to say Colorado is on the cutting edge of technology in detecting Ebola? Oh, I think so."