'Revolution is inevitable': Russell Brand hits Wall Street, kisses RT interviewer (VIDEO)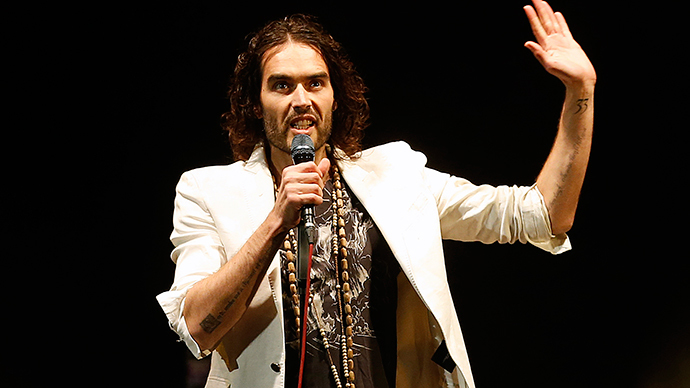 Russell Brand and some 200 Occupy Wall Street protesters descended onto New York City's financial district on Monday, where the celebrity called for a "revolution" within the US. Brand explained his viewpoint to RT – and even kissed the correspondent.
The gathering began as part of a promotional event for his newly released book, titled 'Revolution.' However, after a reading at Zuccotti Park – where Occupy Wall Street protesters made global headlines for rallying against social and economic inequality – Brand and other attendees marched to Wall Street.
Once they arrived, Brand spoke about the need for a social and economic "revolution," something he writes about at length in his new book. Brand mentioned the high disapproval ratings that have been reported regarding American institutions like Congress, arguing that the last time vast swathes of the country were taxed by "elites," a revolution was sparked.
Speaking with RT's Aleksey Yaroshevsky at the event, Brand said the arrival of his book comes at a time when Americans are bracing for similar revolutionary action.
"I think it's inevitable," Brand said. "When universal change is required, people will formulate and organize, and bring about that change. Now we are living under galling inequality, at the point of ecological crisis. People are misinformed, but the means for new communication are merging, and people are awakening."
Brand noted the influence of Occupy Wall Street on his thinking, saying it brought a great deal of hope to people. It showed him that "revolution isn't something that belongs to the past, but something that belongs to the future."
When asked about police brutality and the situation in places like Ferguson, Missouri, Brand expressed optimism for the future.
"We are approaching a time where the police will return to serving the people that they took an oath to serve...instead of enforcing government authority," he said.
At one point, Brand – true to his style – asked RT's Yaroshevsky if he was an "actual Russian," and kissed him on the cheek after he said he was, much to the amusement of the bystanders.
Well, that was an unusual interview with Russell Brand @rustyrockets :) http://t.co/hL88UNDaig

— Alexey Yaroshevsky (@Yaro_RT) October 14, 2014
Meanwhile, guest speakers also talked about climate change, police behavior in prisons, and the conditions in which inmates find themselves in, and called on attendees to remain vigilant.
Brand has been speaking to multiple media outlets this week. On Sunday, he acknowledged criticism that has been directed at him – namely, that he is rich – and stated that he too must change.
Russell Brand is making a valiant effort to escape paparazzi long enough to show #occupy solidarity on Wall Street pic.twitter.com/MArqBaRbVP

— Rob Shook (@robshookphoto) October 14, 2014
"I know, I know. I'm rich, I'm famous, I have money, I have had private security on and off for years. There is no doubt that I as much as anyone have to change," he wrote for the Guardian. "Revolution is change. I believe in change, personal change most of all. Know, too, that I have seen what fame and fortune have to offer and I know it's not the answer. Of course, I have to change as an individual and part of that will be sharing wealth, though without systemic change, that will be a sweet, futile gesture."
You can share this story on social media: