American suicide bomber not tracked by US surveillance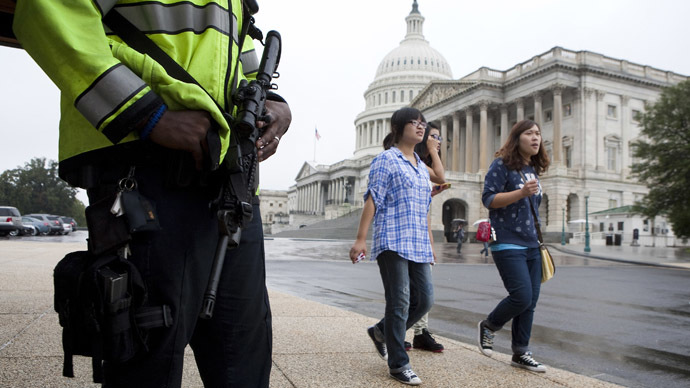 In a startling admission, counterterrorism agencies said an American suicide bomber who made frequent trips to the Middle East was not under surveillance – and could not be unless there was an informant tipping them off to his activities.
Moner Mohammad Abusalha, a US citizen, made frequent trips to the Middle East before taking his own life by driving 16 tons of explosives into a restaurant used as check point by Syrian soldiers on May 25, 2014. Despite taking several trips prior to killing himself, the Florida-based, 22-year-old Abusalha was not on the radar of the FBI or the database at the National Counterterrorism Center.

FBI officials told the Washington Post that the Abusalha case exposed vulnerabilities that can be reduced but not eliminated.

"It is extremely difficult for the FBI to identify individuals in the US who have this kind of goal," George Piro, the special agent in charge of the FBI's Miami field office, said to the newspaper. "It requires a loved one or really close friend to note the changes…The family has to intervene."

Piro is conducting the investigation into Abusalha's activities, but the case already reveals a weakness in US information collection methods, despite a major push by security and intelligence agencies over the past two years to track the flow of foreign fighters into and out of Syria.
Read More:GCHQ more dangerous to privacy than NSA – Snowden
Abusalha first visited Syria in January 2013, then left for Jordan and journeyed on to Mecca. He returned to the US in May 2013 while flying through Newark airport.

"If the FBI was looking for this person and had a case on him, we absolutely would have notified the FBI," said a US Customs and Border Protection (USCBP) official.

Abusalha's mother was called by USCBP about her son when he arrived back in the US, and she confirmed he had been visiting relatives in Jordan. She did not share with them whether she knew anything about his visit to Syria.

His travel records showed multiple trips to Jordan dating to 2005, according to a senior Homeland Security official, though there was no entry on him in any FBI or counterterrorism databases. Nothing in his behavior or belongings, meanwhile, betrayed any tie to the Syrian conflict.

Abusalha left the US again on November 2013 for a trip to Istanbul and Cairo before carrying out his bombing in May 2014. He is said to have joined the Al-Nusra Front, which has pledged allegiance to Al-Qaeda.

The FBI remained unaware of Abusalha's radicalization and return to Syria until mid-December, when a source told the bureau about his plan to fight for Al-Nusra. The bureau opened a full-blown investigation and added Abusalha to its terrorism databases and, eventually, to the US no-fly list.

In May 2014, in their final phone conversation, Abusalha's mother told him to stay in Syria and find a wife. His mother later said she felt trapped, according to family members. If he stayed in Syria, she knew he would be killed in battle or captured and executed. But if she turned to the FBI, it would mean prison for her son.
Read More:Homeland Security to scan federal computer networks without prior authorization

A video from the attack shows explosives being loaded onto an armored truck, which is then driven down the road. A picture of Abusalha appears on the upper right hand side, in which he is holding a kitten with Arabic writing. Next is a long shot of a village on a hillside, then a large explosion is shown for several minutes and a zoomed-in shot shows people running up the hillside.

There were other suicide bombs at army positions on the same day, but no reports on how many died.

US counterterrorism officials are still questioning the significance of Al-Qaeda's decision to use Abusalha in an attack on the forces of Syrian President Bashar al-Assad rather than aiming him at a Western target.

Officials admit the total number of Americans who have visited Syria, or tried to, has risen to 130 or more – and it includes people about whom only fragments of information are known. Many cases are incomplete based on false names or partial identities assembled from social or US intelligence sources. Americans account for a tiny fraction of the estimated 15,000 fighters who have flocked to Syria from other nations – the majority are from elsewhere in the Middle East, or from France, Britain and Germany.
Read More:'Core secrets' exposed: NSA used undercover agents in foreign companies
US officials say the threat of domestic terrorists is challenging to deal with because more than 250,000 Americans went in and out of Turkey last year alone, and more than 2 million travelers visit countries surrounding the conflict in Syria.

"Given the nature of the traveler threat, I don't sit with high confidence that I have complete visibility," FBI Director James B. Comey said in a briefing at FBI headquarters. "Who are we missing who went and came back? And, obviously, who are we missing who is in the midst of trying to go?"
You can share this story on social media: