Cornel West among protesters arrested in Ferguson (VIDEO)
At least 42 people, including author Cornel West, were arrested in Ferguson, Missouri on Monday as activists continued to protest police brutality more than two months after a local officer fatally shot an unarmed teen.
West – a renowned academic and former Harvard professor – was among a group of protesters engaged in an organized act of civil disobedience Monday afternoon outside the Ferguson Police Department. Several members of Christian, Jewish and Muslim clergy were also arrested alongside West, according to AP.

Those detained were charged for disturbing the peace as some protesters used a bullhorn to read the names of people killed by police nationwide. In total, a crowd of roughly 130 activists gathered in front of the station, according to MSNBC.
NBC News reported from Ferguson that West and others had attempted to create a makeshift memorial outside of the police station on Monday for Michael Brown, a local teen shot two months ago this weekend by a Ferguson cop, but arrests began soon after when demonstrators reportedly breached caution time and advanced towards the station.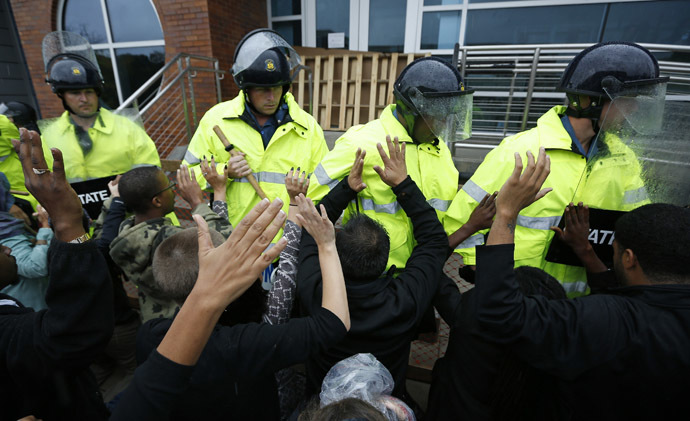 Monday's incident was the latest in a weekend of actions held during the last few days in the St. Louis suburb that activists are calling "Ferguson October." Protests have also occurred in recent days in St. Louis, where a man was fatally shot by an off-duty officer last Wednesday.
On Sunday evening, West told an audience at St. Louis University that he was prepared to be arrested for demonstrating.
"It's a beautiful thing to see people on fire for justice, but I didn't come here to give a speech," he said at Sunday's event. "I came here to go to jail."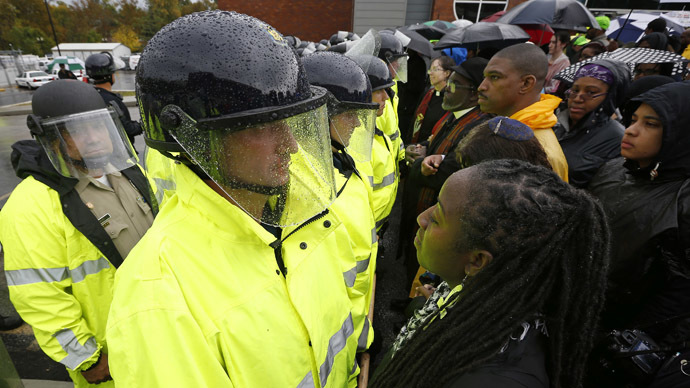 According to MSNBC, Rev. Osagyefo Sekou — a prominent author and pastor — was arrested during Monday's demonstration as well. Authorities detained Sekou last month as well after engaging in an act of civil disobedience with other faith leaders.
Matt Pearce, a reporter for the Los Angeles Times, wrote on Twitter that the police station demo was "highly coordinated" with "organizers clearing paths, sending clergy in waves … willing to get arrested."
Dr. Cornell West arrested. #fergusonpic.twitter.com/HwlXPLNOqc

— Craig Cheatham (@CheathamKMOV) October 13, 2014
Activists have been attempting to draw attention to the widespread concerns regarding the excessive use of force by police officers, particularly against young minorities, and the lack of charges brought against Darren Wilson, the Ferguson officer who shot Brown in August. A grand jury is currently considering whether or not Wilson should be charged in the shooting.
MSNBC reported that roughly a half-dozen protesters were arrested elsewhere in Ferguson on Monday after blocking a major intersection. According to CBS News, 17 arrests were made on Sunday.
You can share this story on social media: