Monsanto announces major losses after settling environmental suit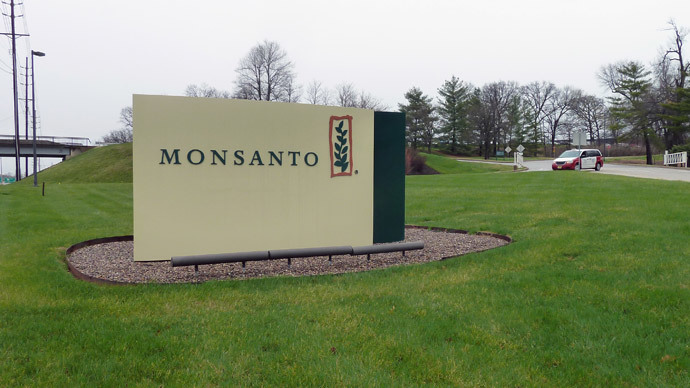 Biotech giant Monsanto announced major losses for their fourth quarter last week well below analysts' expectations after spending millions settling an environmental suit.
The St. Louis, Missouri-headquartered company announced a loss of $156 million, or 31 cents per share, on Wednesday, 7 cents per share beyond what analysts surveyed by both Bloomberg and Zacks Investment Research had expected.
According to the Associated Press, Monsanto managed to take the biggest blow during the last quarter due to a one-time payment made to settle an environmental legal case and, had it not occurred, the company would have lost only 27 cents per share. As RT reported at the time, residents of a West Virginia town where Monsanto formerly operated a chemical plant have since July been able to receive free medical monitoring or have their property cleaned-up thanks to a settlement agreement valued at over $90 million.
Despite ongoing and international legal issues, however, Monsanto managed to see sales of its GMO products go up during the last four months, with company execs and analysts alike saying they're optimistic about the coming year. Monsanto representatives said during a conference call that they're confident earnings-per-share will double by 2019, and the St. Louis Post-Dispatch reported that lackluster results during the last quarter failed to raise alarm bells for analysts.
"We're confident in our ability to deliver the targets we've set in both the near term and over the longer term," Monsanto CEO Hugh Grant said in a statement. "In an industry that's particularly near-term focused right now, there are few companies as well positioned to deliver strong growth today while significantly increasing investments to enable the continued delivery of a broad range of innovative solutions for tomorrow."
"We think it is reasonable for management to be conservative at this early juncture in light of uncertainty within the agriculture industry with crop prices under pressure and farmer planting intentions unsure," Edward Jones analyst Matt Arnold told the Post-Dispatch.
Absent more multi-million dollar settlements — and coupled with high expectations concerning new technology platforms, including a farm data business unit, the company said — Monsanto expects positive figures in the coming quarters. According to the Market Business News, net sales for Monsanto's full year reached $15.9 billion, or 7 percent higher than the year prior: sales for GMO corn and GMO soybean were up by $ 12 million and $112 million, respectively, and net sales of the company's Roundup herbicide totaled $1.25 billion, compared to $1 billion last year.
Monsanto executives are prepared for first quarter earnings in 2015 to be well below what they saw a year earlier, the AP reported, and expect a slump due to "reduced seed planting in key markets and other seasonal factors." Otherwise, the company said it expects "strong double-digit to mid-teens earnings growth in fiscal year 2015 despite continued industry headwinds.''
Nevertheless, Monsanto might not sail through the coming quarters with ease given a mounting anti-GMO backlash across the world: three lawsuits were filed last week against competing agribusiness firm Syngenta over a genetically-modified seed variant it markets, and residents of Colorado are slated to vote next month on a measure that could impose new GMO-labeling laws in stores across the state.
You can share this story on social media: