Pot-infused soda explodes in Washington state store
Published time: 9 Oct, 2014 20:43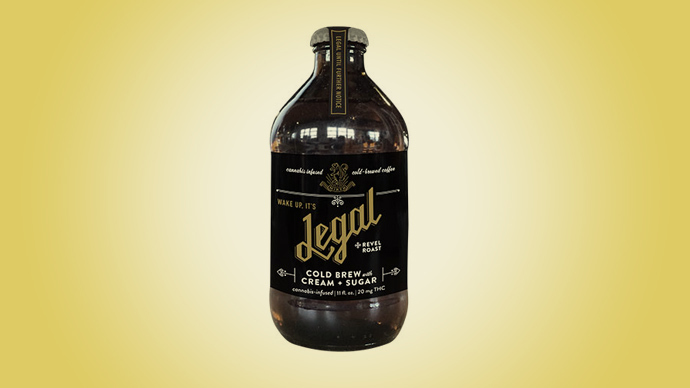 A marijuana-infused beverage being sold in Washington state where recreational weed recently became legal made more than a splash recently when bottles began spontaneously bursting inside of a retail display case.
Zach Henifin, the manager of Top Shelf Cannabis in Bellingham, WA, told KOMO News that "It sounded like a shotgun going off" when glass bottles of a soda sold in his shop started exploding recently.
The beverage — a sparkling pomegranate drink containing 10mg of THC in each bottle — is manufactured by Mirth Provisions of Longview and is part of the company's "Legal" line of sodas sold in Washington and other places where it's lawful to sell products made with potent marijuana.
Top Shelf Cannabis had ordered around 330 bottles of the soda and received them late last month, selling 10 of them on the first day they were available, Henifin told KOMO. Employees found "a sticky mess of broken bottles and shards of glass throughout the store" the next day, however, and soon after saw the bottles explode right before their eyes.
"You can actually feel it," Henifin recalled of the bursting bottles to KOMO.
A representative for Mirth Provisions told the outlet that two other similar shops in Vancouver, British Columbia encountered similar issues and suspects a little extra yeast during the brewing process eventually made the bottles burst.
"It was simply the fact that his batch had a higher yeast concentration, and one of the by-products of yeast is excess carbon dioxide," Mirth founder Adam Stites said. "The yeast was just building up the pressure in the bottles over a seven to 10 day period," eventually causing the containers to burst despite being designed to handle 42 pounds per square inch of pressure.
"Sometimes when you're creating new products in a new marketplace there's a little bit of a learning curve and that's what we've experienced," he explained.
According to KOMO, the lesson doesn't end right there, however: Stites reportedly sent a driver to pick up the batch of a few hundred Legal bottles that Top Shelf no longer wanted when the explosions started, but the person he dispatched only took some and abandoned the rest.
"State law says Top Shelf had to quarantine any marijuana product for 72 hours to allow the opportunity for LCB officers to inspect the products for compliance," Matt Markovich wrote for KOMO. "There is little wiggle room that allows Top Shelf to destroy a potentially dangerous product that could cause bodily harm."
As RT reported previously, Washington became the second state in the US, after Colorado, to allow retailers to legally sell weed and pot-infused products.