'Killing Jews': Pro-Israeli activist sues MTA after anti-Hamas ads turned down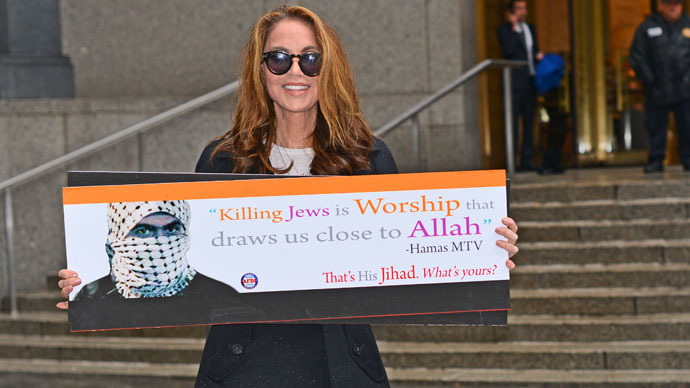 A pro-Israeli group has filed a lawsuit against New York's transportation authority after it refused a bus advertisement campaign that includes the phrase "Hamas Killing Jews." It was rejected because of fears it could incite violence.
The lawsuit was filed Wednesday in the Federal Court in Manhattan by the American Freedom Defense Initiative, which was founded by activist Pamela Geller. They want the Metropolitan Transport Authority (MTA) to reconsider the ban on using the slogans such as "Killing Jews is worship that draws us close to Allah - Hamas MTV," as it is in breach of the 1st and 14th amendments.
Pamela Geller Files Lawsuit Against MTA: http://t.co/LNpc2OKHBI via @YouTube

— Pamela Geller (@PamelaGeller) October 1, 2014
David Yerushalmi - the lawyer defending Geller, who paid for a six advertisement series, which would run on 100 buses across the city stated, "When our clients run ads exposing this Jew hatred, all of a sudden the transit authorities are worried about the 'tone' of the conversation, or conjure up some threat of violence," Reuters reports.
Excelsior! Just filed #freespeech lawsuit against NYC MTA. They feared the ad would incite Muslims to kill Jews pic.twitter.com/Onuz6zKBzn

— Pamela Geller (@PamelaGeller) October 1, 2014
A Spokeswoman for the MTA, Amanda Kwan said the agency would not comment on the issue. However the MTA made a statement on September 19, saying that they were rejecting the adverts that included the slogan "Killing Jews" because they believed it "would imminently incite or provoke violence," according to AP.
"The MTA does not decide whether to allow or not allow a proposed advertisement based on the viewpoint that it expresses or because that viewpoint might be controversial," the MTA statement added.
It continued by saying the MTA Director of Safety and Security Raymond Diaz concluded the proposed advertisement "would lead reasonable observers to interpret it as urging direct, violent attacks on Jews, given turmoil in Gaza, Syria and Iraq and New York City's heightened security concerns."
The American Freedom Defense Initiative's objectives are to "go on the offensive when legal, academic, legislative, cultural, sociological, and political actions are taken to dismantle our basic freedoms and values," the organization's website states. They also state in the lawsuit that the advertisement that had been rejected had been run in other large cities in the US, such as Chicago and San Francisco.
They also believed that the advertisement was timely because of "ongoing terrorism conducted by Hamas operatives against Israeli civilians in the name of Islamic jihad."

Geller did agree to remove a picture of American journalist James Foley from one of her ad campaigns. He was pictured in an orange jumpsuit, kneeling before a man clad in black, who is alleged to be Abdel-Majed Abdel Bary, a London-based Muslim who pursued a career as a rap artist until he turned to jihad and went to join the Islamic State. The organization's website goes on to say that British intelligence has identified him as the murderer of Foley.
The ad bears the caption, "Yesterday's moderate is today's headline."
The removal of the ad featuring Foley came after a plea from the late journalist's mother and also from New York politicians who said, "No faith should be subject to attack ads and calling it an attempt to divide the city," Reuters reported.
This is not the first time that Geller, who is also a popular blogger, has taken the MTA to court. She was behind a similar ad campaign in 2012, which was initially rejected by the transportation body. However a federal judge ruled in Geller's favor.
One of the ads in question in 2012 featured a photo of the World Trade Center exploding in flames, with a quote from the Koran stating, "Soon shall we cast terror into the hearts of the unbelievers."
You can share this story on social media: