Obama skipped most of his daily intelligence briefings - Govt Accountability Institute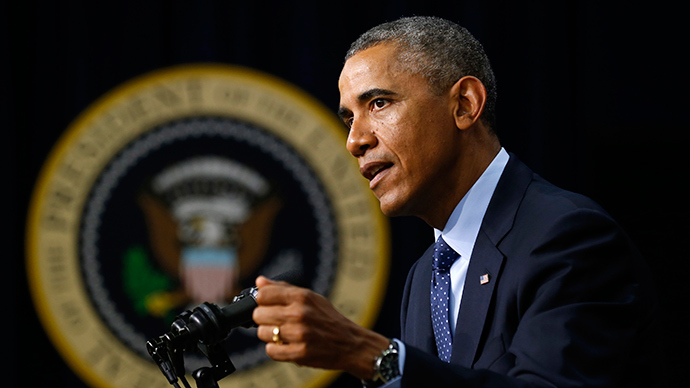 ​US President Barack Obama has attended only 42 percent of his daily intelligence briefings since assuming office more than five and a half years ago, according to a new study.
The Government Accountability Institute, a watchdog non-profit organization,calculatedthe number of times Obama has received daily oral intelligence briefings, or the Presidential Daily Brief (PDB). The group found that as of Sept. 29, the President had attended 42.4 percent of PDBs during his first term and 41.3 percent during his second term.
The report came days after Obama told 60 Minutes that Director of National Intelligence James Clapper has "underestimated" the strength of Islamic State, the militant group currently the target of US-led airstrikeson its holdings in Syria and Iraq.
"I think our head of the intelligence community, Jim Clapper, has acknowledged that I think they underestimated what had been taking place in Syria," Obama said.
The statement infuriated some in the intelligence and defense communities. One anonymous former senior Pentagon officialtoldthe Daily Beast that Obama is surely getting valuable information about Islamic State, also known as ISIS or ISIL, from intelligence reports.
"Either the president doesn't read the intelligence he's getting or he's bullshitting," said the former official who is familiar with jihadist actions in Syria and Iraq.
After a previous tally of PDB attendancein 2012, the White Housesaidthat Obama alwaysreceives a copyof such intelligence reports on his secure iPad, and that the White House public schedule is, at times, inconsistent with how and when the President's daily meetings and events are announced or termed.
"It's pretty well-known that the president hasn't taken in-person intelligence briefings with any regularity since the early days of 2009," an Obama national security staffer told theDaily Mailon Monday. "He gets them in writing."
The staffer added that Obama has been warned of Islamic State for years.
"Unless someone very senior has been shredding the president's daily briefings and telling him that the dog ate them, highly accurate predictions about ISIL have been showing up in the Oval Office since before the 2012 election," the security staffer said.
The Washington Postanalyzedhow past presidents had handled the PDB when the previous Obama attendance record was reported in 2012. Thomas S. Blanton, director of the National Security Archive at George Washington University, said there has been "lots of variation in the briefing patterns" among presidents, with varying degrees of engagement no matter if the president received oral briefings or preferred written reports.
For instance, George W. Bush "wanted personal and oral, and that matched CIA's institutional interest in face to face with the president, much better for their bureaucratic politics, but unclear how good it was for presidential decision making," Blanton said. "On Iraq WMD [weapons of mass destruction], the direct brief was clearly pernicious; reading might have pointed to the dissents, but the briefers did not."
Meanwhile, according to an account of CIA history written by John L. Helgerson, Ronald Reagan rarely received the PDB from an intelligence official.
"Thinking back over the eight years of the two Reagan administrations, the Agency's briefing officer remembered only one or two occasions when the National Security Adviser took him into the Oval Office to brief the President directly."
In contrast, former CIA director George H.W. Bush, Reagan's vice president and eventual successor in the Oval Office, pored over intelligence reports and received the oral briefing. Overall, Helgerson wrote that he had a remarkable relationship with the intelligence community.
The previous attendance report came just one day before US Ambassador to Libya Christopher Stevens, among others, was killed in an attack on the US consulate in Benghazi by Islamic militants, igniting further criticism of how Obama processes national intelligence reports.