Ferguson police chief apologizes to family of Michael Brown (VIDEO)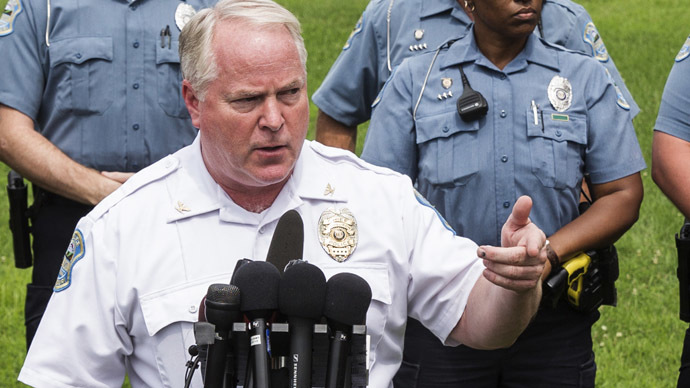 The police chief in Ferguson, Missouri, has issued a video apology to the parents of Michael Brown, the unarmed teenager who was shot and killed by an officer – and whose death sparked weeks of protests that gained national attention.
The video apology – which also contains expressions of regret for the way police treated peaceful protesters – comes 47 days after Brown was killed by Officer Darren Wilson.
Specifically, Ferguson Police Chief Thomas Jackson said he was sorry for the fact that Brown's body was left in the streets for four hours before it was finally removed by officials.
"No one who has not experienced the loss of a child can understand what you're feeling," he said in the video. "I am truly sorry for the loss of your son. I'm also sorry that it took so long to remove Michael from the street."
Jackson said that although police were using that time to gather evidence and improve their understanding of the incident, Brown was simply left in the street for too long. The teenager's death quickly became controversial, with conflicting reports coming from police – who claimed Brown was charging Wilson – and other eyewitnesses, who say Brown had his hands up in the air at the time of the shooting.
Brown was shot about six times, according to a private autopsy commissioned by the Brown family. Audio of the incident captured by a local resident also seemed to indicate that nearly a dozen shots were fired.
In the video, Jackson went on to address the demonstrators who were acting peacefully as they took to the city streets to express their anger over Brown's death and press for criminal charges against Wilson, who is currently on paid leave.
"The right of the people to peacefully assemble is what the police are here to protect. If anyone who was peacefully exercising that right is upset and angry, I feel responsible and I'm sorry," he said.
"For any mistakes I've made, I take full responsibility," he added. "It's an honor to serve the city of Ferguson and the people who live there. I look forward to working with you in the future to solve our problems, and once again, I deeply apologize to the Brown family."
READ MORE: Ferguson cop who shot Michael Brown testifies before grand jury
As has been well documented, police responded to allegations of excessive force by deploying officers in riot gear and armored vehicles to meet protesters. In a highly criticized move, police also used tear gas against protesters.
Despite the complaints over police behavior and calls for his job, Jackson said he will not be stepping down from his position.
"I've talked to a lot of people who have initially called for that and then changed their mind after having meetings and discussions about moving forward," he told CNN during an interview. "Realistically, I'm going to stay here and see this through. This is mine, and I'm taking ownership of it."
Currently, a grand jury is deciding whether or not to levy charges against Wilson. The officer recently testified for four hours to the grand jury, though no details were given.
You can share this story on social media: