Chicago mayor wants marijuana decriminalized across Illinois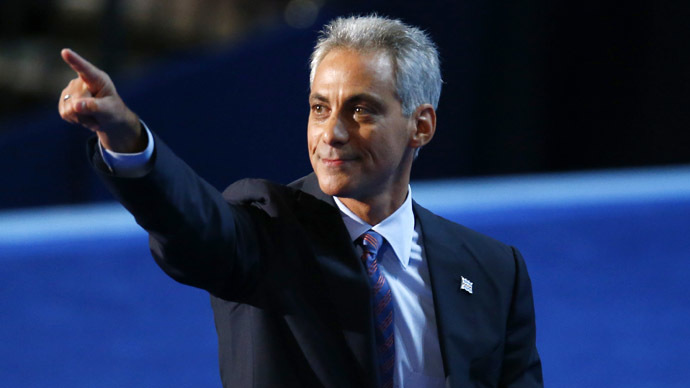 Proponents of marijuana legalization in Illinois have received the support of one of the state's most prominent politicians: former White House chief of staff and current mayor of Chicago, Rahm Emanuel.
The Windy City leader spoke in support of decriminalizing pot possession across the Prairie State during an appearance on Tuesday this week before the Illinois General Assembly, where he testified for an hour-and-a-half, according to the Chicago Tribune, about a potential lift on the state's pot prohibition.
Only two states — Washington and Colorado — currently allow adults to enjoy recreational weed, but locales across the United States are increasingly authorizing medical marijuana programs that let patients enjoy pot with a valid doctor's prescription. Twenty-three states across the US have medical marijuana program as of June, and voters in Washington, DC recently approved a measure that drastically reduces the fines levied at persons caught with small amounts of pot.
Emanuel is apparently hoping that Illinois follows in the footsteps of the nation's capital, and told lawmakers this week that the state should decriminalize marijuana as well and reduce the punishment for people caught in possession of one gram or less to a misdemeanor.
"It's time, in my view, to free up our criminal justice system to address our real public safety challenges and build on the progress that has been made," Emanuel said, according to the Tribune.
By decriminalizing marijuana, the mayor continued, the state would "change not just the criminal system and the fact that we'll save time and money," but "will change people's lives."
"Some who are walking around with a felony, their employment prospects, their job prospects, their lives are on a different trajectory than if they had a misdemeanor associated with them," Emanuel said. "It doesn't make sense that one arrest for a very small amount of a controlled substance can lead to a lifetime of struggles, sending people in and out of prison and putting up barriers to getting a job or finding a place to live. We need action from Springfield," he added, in reference to the state capital.
"It is time to put our sentencing policies in line with our values, reduce penalties for nonviolent, low-level drug offenses so we don't put people in prison who need drug treatment," testified Emanuel, according to the Christian Science Monitor.
The mayor's latest remarks may be considered a risk given the odds it could have an adverse effect on his chances of re-election in February 2015, but doesn't signal a significant about face for Emanuel: in 2012, the mayor supported a measure that sought to let police issue fines to Chicagoans caught with small amounts of marijuana in lieu of placing those persons under arrest.
According to a study published by the Roosevelt University in Illinois earlier this year, officers with the Chicago Police Department spent upwards of 63,000 hours in 2013 issuing misdemeanor arrests for pot possession.
Illinois last year became the twentieth state in the US to legalize medicinal marijuana and has since been joined by three others.
"It's important we do whatever we can to ease their pain," Governor Pat Quinn said when he signed the bill into law last August. "The reason I'm signing the bill is because it is so tightly and properly drafted."
You can share this story on social media: