NYPD officer caught on camera violently tackling pregnant woman onto her stomach (VIDEO)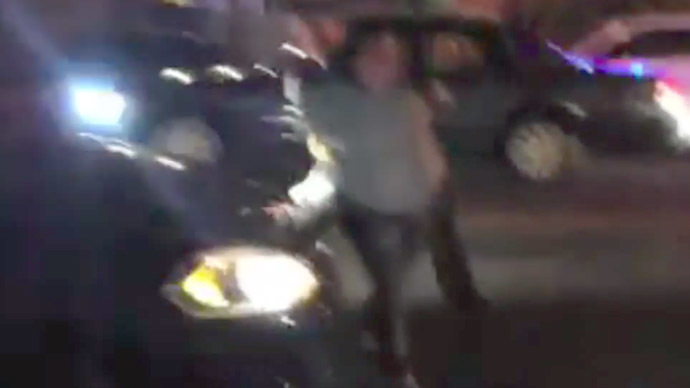 A New York Police Department officer was caught on video tackling a visibly pregnant woman, and then remaining on top of her while she was facedown on the ground. Doctors do not know if her baby was harmed during the altercation.
The five-months pregnant woman, Sandra Amezquita, was trying to intervene in the arrest of her 17-year-old son early Saturday morning in Brooklyn, police said. Residents told WABC that Amezquita is nearly six months along.
Cops from New York City's 72nd Precinct had spotted Amezquita's son, 17-year-old Jhohan Lemos, with a clip – one often used to hold a knife – on top of his pants pocket, and a corresponding bulge below. The NYPD officers were arresting the teen for carrying an illegal knife in front of a bar where his parents and family friends were hanging out before coming out to help the teen, the New York Post reported, citing law enforcement officials.
The altercation began around 2:15 a.m., when Amezquita asked police to "stop using excessive force" on her son, family lawyer Sanford Rubenstein said, according to Lohud.
The amateur video begins with Lemos already in handcuffs, sitting on the street, surrounded by police. When Amezquita tries to intervene, a bystander says, "Don't resist! Don't resist. Throw your hands up."
Police try to restrain her, then slam her to the ground with one of them riding on her back. Not only did she land on her stomach, "but she and her developing child [had] to absorb the weight of a police officer on top of her as well," WPIX noted.
"Oh, my God, she's pregnant!" an onlooker exclaims.
A family friend also tries to step in, and another officer shoves her away.
"What we see is a woman who's trying to protect her son, who is being stopped and frisked by police, and she became a victim. Slammed onto the floor," Dennis Flores of El Grito de Sunset Park, the organization who posted the video on Facebook, told WABC. "Her belly is now with black and blue bruises. She's bleeding and she's having complications."
Rubenstein told Lohud that doctors told Amezquita "there's no way to tell" if the baby was harmed. Amezquita suffered vaginal bleeding after the incident.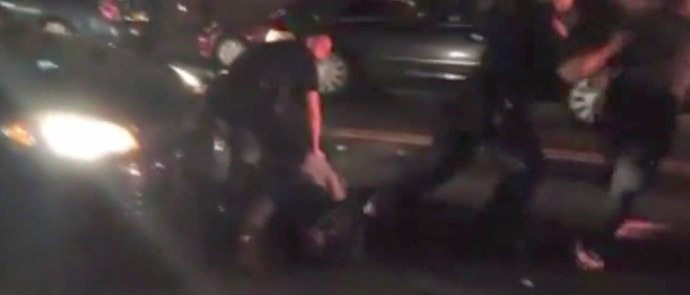 "You would think the police would respect a woman that is pregnant," Amezquita, 43, said through an interpreter in an interview with the New York Daily News.
"I was afraid something happened to my baby. I am still afraid that something is wrong," she said, referring to the abdominal pain that persists.
The baby's father, Ronel Lemos, said he watched in horror as his wife hit the ground belly-first.
"The first thing I thought was they killed my baby and they're going to kill my wife," Lemos, 50, told the New York paper on Tuesday.
El Grito de Sunset Park is an advocacy group that brings attention to what Flores describes as controversial tactics of the NYPD. The bystander who recorded the altercation Saturday recorded a different incident in the same Brooklyn neighborhood involving a 72nd Precinct officer last week.
Police Commissioner Bill Bratton suspended a cop caught on camera kicking a street vendor on Fifth Ave. in Sunset Park as he was being subdued by fellow officers, the Daily News reported.
"What happened is appalling and should not be happening in New York City," Rubenstein, who specializes in civil rights, told the Daily News. "These videos are pictures of the truth and those who take them are performing a public service."
"It is incidents like this that account for police-community relations being at an all-time low in New York City," he added.
The younger Lemos was charged with criminal possession of a weapon, resisting arrest and harassment, law enforcement sources said. The teenager has been arrested five times, including once for gang assault and robbery, Lohud reported.
Ronel Lemos was charged with striking Office Elvis Merizalde in the back and shoulder while he was arresting Jhohan, as well as resisting arrest, harassment and obstructing governmental administration, according to the criminal complaint. Amezquita received a summons for disorderly conduct. A third man, 46-year-old Secundino Payamps, was also charged with the same crimes as Ronel.
Both incidents are under investigation by the NYPD Internal Affairs Bureau.
You can share this story on social media: