Lawyers for accused Boston Marathon bomber deny posing as FBI agents in Russia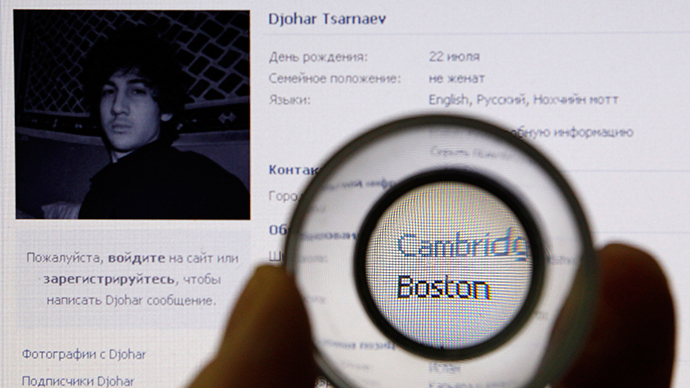 Attorneys for Boston Marathon bombing suspect Dzhokhar Tsarnaev say allegations that three defense team members misrepresented themselves as FBI employees while investigating the case in Russia are "false" and "preposterous."
The lawyers, seeking information on their client's background in his native Russia, said they did not refuse to identify themselves to authorities there, according to a federal court filing registered Monday in Boston.
"Let us be clear: at no time have members of the defense team misrepresented themselves or lied about their work," said defense lawyer David Bruck, according to Bloomberg. "The defense has no motive to lie or impersonate FBI agents, and every reason not to."
The defense added that they were trying to compel information from those in a country suspicious of government-appointed defense lawyers, and that it has been difficult convincing potential witnesses that they're trying to help Tsarnaev "rather than facilitating the US government's effort to execute him," AP reported.
Tsarnaev, 21, has pleaded not guilty to having a role, with his now-deceased older brother Tamerlan, in the 2013 bombings that killed three people and injured around 260 others. He faces the death penalty. Originally from the Dagestan region of Russia, he is a naturalized US citizen who at a young age came to the United States with his family. His parents now live in Russia.
Prosecutors in the case said in a Sept. 12 filing that the Russian government notified US authorities that Tsarnaev's lawyers had been ejected over the incident.
The defense team is currently seeking to delay the trial until Sept. 2015, as opposed to its current scheduled start in less than two months on Nov. 3. Prosecutors say the heavy workload cited by the defense as reason for delay is mostly their own doing.
Defense attorneys said Monday that by repeating the "reckless allegations" of impersonation, prosecutors are deliberately attempting to make preparation for the trial more difficult.
"More time is needed to ensure basic fairness to the accused. It is also needed to service society's best interest in the fullest possible accounting of what happened in Boston during the week of April 15, 2013, and why it happened," Tsarnaev's lawyers said.
Defense lawyers said Monday that its investigation has also been made difficult by "widespread fear and suspicion among potential witnesses," some of which have faced arrest, indictment, conviction and deportation.
The defense did not answer to the US claim that they identified themselves as tourists upon entering Russia. The lawyers that made the trip have not been identified by the defense or the US.
Tsarnaev's defense does not deny that he had a role in the bombing, but they do say they will attempt to place most of the blame for the incident on Dzhokhar's brother, Tamerlan, who was killed in a shootout with police days after the blasts. Tamerlan was radicalized by Islamic extremism and persuaded his brother to help in the attack, the defense has said.
The defense has criticized prosecutors' "sweeping and misleading" findings, filed in court, about Dzhokhar's "self-radicalization," and for not offering a full account of Tamerlan Tsarnaev's laptop or a shared family computer in four pertinent reports.
"Tamerlan's computers –- and indeed his very existence –- are omitted from all four of these reports, presumably because the government believes that its case for the death penalty will be stronger if the jury remains in the dark about how the Marathon bombing was conceived, and by whom," Bruck said.