​LAPD launches probe into detainment of 'Django' actress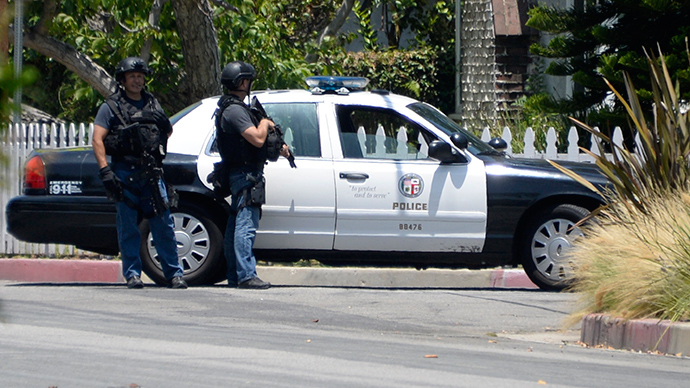 Los Angeles police are investigating a weekend incident that saw "Django Unchained" actress Daniele Watts accuse officers of violating her rights after they detained her in response to a complaint over indecent exposure.
Watts – who is African American – and her white boyfriend, Brian James Lucas, claimed that police suspected the actress was a prostitute when they arrived on the scene near Hollywood, and the situationescalatedwhen they asked for identification and she refused to comply. Now, the Los Angeles Police Department is launching an investigation.
According to one of the responding officers, the incident began over a report regarding "lewd acts in a car" allegedly performed by Watts and Lucas. The couple adamantly denied any wrongdoing, with Watts repeatedly stating that she and Lucas were simply kissing in a car. When asked for her ID by the police, Watts made it clear she would not hand it over and ended up walking away from the scene.
READ MORE: LAPD handcuff 'Django Unchained' actress kissing her white partner
As a result, police detained her and placed her in handcuffs. Eventually, the officers "determined that no crime had been committed" before releasing the couple.
Tabloid website TMZ.com managed to obtain a police audio recording of the incident, which allegedly depicts the escalating nature of the confrontation. It claims to show that soon after police showed up and asked for identification, Watts began questioning their motives.
"Do you know how many times I've been called, the cops have been called just for being black, because we're black against white? I'm just being really honest," a female voice attributed to Wattas could be heard saying on the tape. She also noted that she is an actress and threatened to leak the officer's name to her publicist.
Police, however, denied that the situation had anything to do with race. "Who brought up the race card?" an officer asked. "Why?"
LAPD spokeswoman Wendy Reyes told Reuters the recording seems to be authentic, though she did not know how the website managed to get a hold of it.
Meanwhile, Watts explained to ABC 7 Los Angeles that she was sitting on Lucas' lap and kissing him in the car when another white man confronted them about it.
"A Caucasian guy in a business suit comes downstairs and says, 'Can you guys stop putting on a show? I have people who are trying to work up there,'" she recalled.
Lucas also described the kinds of questions that police began asking, leading him to believe that they thought Watts was a prostitute and that he was her client.
"How do you know her, what relationship, they were questions that quite frankly made me feel like that they were questioning me being like the client of a prostitute," Lucas told ABC. "He didn't say anything ever about that, I just felt that energy from it."
In a post on Facebook following the incident, Watts recalled how ashamed she felt while sitting in cuffs.
"Today I was handcuffed and detained by two police officers from the Studio City Police Department after refusing to agree that I had done something wrong by showing affection, fully clothed, in a public place," she wrote.
"As I was sitting in the back of the police car, I remembered the countless times my father came home frustrated or humiliated by the cops when he had done nothing wrong."
News of the LAPD's investigation comes after the department noted there was no official documentation of the event, since no arrest was made and Watts was never taken in for questioning.