DC cop under fire for harassing man filming arrest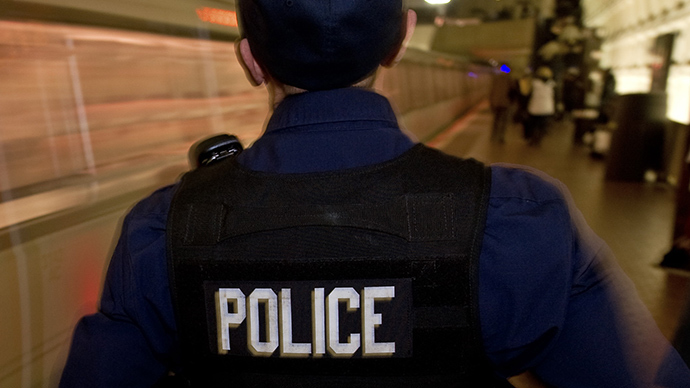 The Police Chief in Washington, DC, is speaking out against one of her officers and in support of a man who stopped to record police arresting a man on a sidewalk only to be harassed by police and suspected of involvement in a crime for doing so.
Metropolitan Police Department Police Chief Cathy Lanier said she was surprised by the officer's actions in the incident that happened this week, and that he is now under investigation because for clearly violating the department's own regulations.
In the cell-phone video recording posted on YouTube, several police officers could be seen arresting a man lying on the ground, with his belongings scattered on the sidewalk outside the Martin Luther King Jr. Memorial Library.
Just over 50 seconds into the video, an officer approaches the witness, Andrew Heining, to ask if he knows the person being restrained.
"Are you a part of this, sir?" the officer, identified as C.C. Reynolds, asked Heining. "You're videotaping an investigation. This can be evidence in the case you understand that?"
The officer also claimed Heining was blocking the sidewalk, to which Heining replied, "I am just standing on the sidewalk, Sir," and swinging the camera to show the sidewalk is clear. Reynolds replied, "This is not public, right!" The two went back-and-forth on whether Heining was allowed to film the incident.
"You are videotaping this crime scene, right? ... That makes you part of it. And your little camera phone could be used as evidence, you understand?" Reynolds said.
Heining didn't back down, and eventually the officer made him move back to the street corner and taped off half of the street block around the man being restrained.
In an issued statement, Lanier wrote: "We have an extremely clear policy that addresses the Metropolitan Police Department's recognition of the First Amendment rights enjoyed by – not only members of the media, but the general public as well – to video record, photograph and or audio record MPD members conducting official business or while acting in an official capacity in any public space, unless such recordings interfere with police activity."
Lanier said the department spent an extensive amount of time to make police officers aware of the policy, developed in 2011.
"The video speaks for itself," Lanier added. "I was shocked when I saw it. There is no excuse for an officer to be unaware of the policy. This matter is under investigation."
The MDC introduced the filming policy in 2012, as part of a settlement in a lawsuit against the city in which Jerome Vorus accused the police of violating his First and Fourth Amendment rights. Vorus was filming traffic stops in Georgetown when four different officers told him it was illegal to take pictures without permission. Vorus was temporarily detained and officers checked his identification, according to Legaltimes.com
Heining said he has filed citizen complaint form and is also seeking a public apology, according to Fox 5.
DC police, meanwhile, plan to test body-mounted cameras beginning this October, a move that the officer in the video said he supports.
You can share this story on social media: