Police arrest Ferguson protesters blocking major highway (PHOTOS)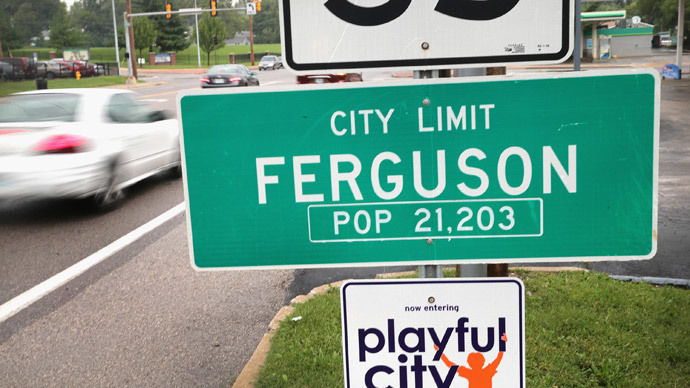 At least a dozen people have been arrested during a protest along a major interchange on Interstate 70 in Ferguson, Missouri. Demonstrators tried to shut down the highway to demand a special prosecutor for the Michael Brown court case.
The protest started at 3 p.m. Central time, with people gathering at the Hanley Road interchange. Police lined the overpass and stood along the street, then surrounded the demonstrators. "Police on Hanley seem ready for lots of arrest with Dept of Corrections bus," St. Louis Post-Dispatch staff photographer David Carson reported on Twitter at the beginning. Riverfront Times reporter Danny Wicentowski tweeted that there was a massive reserve force, including over 20 police cruisers, at the staging area, but no riot gear.
Situation getting ugly along 1-70. Protesters trying to shut down freeway. #MikeBrownpic.twitter.com/26C828G1v4

— Ted Rowlands (@TEDROWLANDS) September 10, 2014
The cops brought out their batons and shields and began moving closer to the protesters as a large crowd of protesters moved north, according to Wicentowski. The two groups collided, and there was a short scrum. Some water bottles were thrown. At least one brick was thrown, Carson tweeted.
One of the arrests from earlier, about the time brick was tossed at police. #ferguson#MichaelBrownpic.twitter.com/zUOkypRlCP

— joelcurrier (@joelcurrier) September 10, 2014
Fox 2's news helicopter was told to leave the airspace over the demonstration "because of congestion in the area," the station said. The news outlet also reported "[well] over a dozen arrests at this point."
A view of the #Ferguson Michael Brown protests via @Bommaritoauto SkyFOX helicopter pic.twitter.com/1OFIn75qUi

— FOX2now (@FOX2now) September 10, 2014
Rev. Larry Rice, a noted advocate for St. Louis' homeless, was arrested, Carson said.
After shutting down all of Hanley Road and slowing traffic on I-70, community leaders, including organizer Eric Vickers, urged protesters to move towards the Ferguson Police Department and jail.
Scene on North Hanley. no traffic getting by. Police still threatening arrests. #Ferguson#michaelbrownpic.twitter.com/xVNaUz8IL0

— joelcurrier (@joelcurrier) September 10, 2014
"They are not going to allow us to get on the highway as we planned. But we did tie them up for a few hours," Vickers told St. Louis Today reporter Steve Giegerich.
Just after 5 p.m. local time, riot police began withdrawing, Wicentowski reported, adding however, that authorities were still detaining some protesters.
Long-time St. Louis activist Anthony Shahid organized the protest to demand that prosecuting attorney Bob McCullough be removed from the case. Protesters believe McCullough is biased against the unarmed 18-year-old Michael Brown, who was shot and killed in August by Ferguson Police Officer Darren Wilson. The attorney's father was shot by a black man when McCullough was a child. McCullough has repeatedly denied that this makes him biased, and Gov. Jay Nixon (D-Mo.) has refused to remove him.
"It is going to cause people some discomfort, it is going to cause inconvenience to people," Vickers, one of the organizers of the Justice for Michael Brown Leadership Coalition, told the Riverfront Times before the highway protest. "That is a small price to pay to change the conditions for African American youth, and it is a very small price to pay to bring justice to Michael Brown. The Wednesday civil-disobedience action will be the start of a direct action campaign that will continue and will escalate until our demands are met."
People have moved to sidewalk. Police warning of arrest. "This is an unlawful assembly." #Ferguson#michaelbrownpic.twitter.com/fT4A28JePs

— joelcurrier (@joelcurrier) September 10, 2014
Hello sound cannon. I didn't miss you. (Hasn't been used yet.) #Fergusonpic.twitter.com/mZHW3oXjDb

— Danny Wicentowski (@D_Towski) September 10, 2014
You can share this story on social media: