Rich vs Poor: Dietary gap widens rapidly, study shows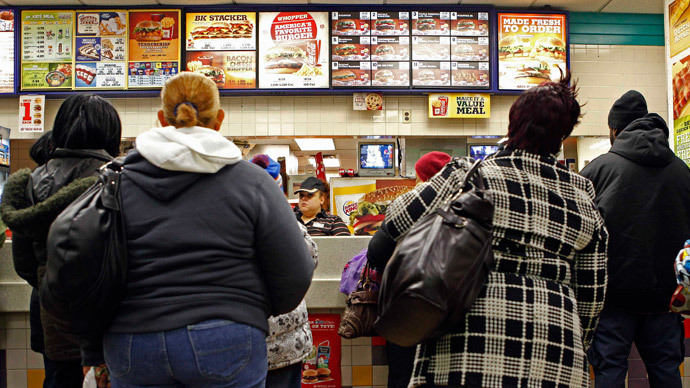 Evidence of America's widening wealth gap since the 2007 financial crisis show that the bottom tier of US income earners is falling rapidly behind on the nutrition front. Meanwhile, the diets of higher wage earners are also sub-par.
Despite government efforts to promote nutritional awareness, a 12-year study shows that eating habits in the United States remain a national concern.
Junk food gets encoded in the DNA of future children, scientists discover
On a scale that charts eating habits where a perfect score is 110, American adults averaged just 40 points in 1999-2000, inching upwards to 47 points in 2009-10, according the study, entitled "Trends in Dietary Quality among Adults in the United States, 1999 through 2010."
However, the results were not evenly distributed across the population, with people from low-income families and worse educational opportunities, coming in approximately four points below those for high-income, well-educated adults around the turn of the millennium; the difference between the two socioeconomic groups increased to more than six points from 3.9 points in 1999 to 2000 to 7.8 points in 2009 to 2010.
Lower scores indicate a lack of wholesome foods, including fruit, vegetables, and whole grains. Individuals who fail to include such items in their daily diet have a greater risk of developing chronic illnesses, such as heart disease, strokes and diabetes, as well as obesity, the report said.
Quality of US #diet improved some but #gap in overall diet #quality widened between #rich, #poorhttp://t.co/o9Itg1y4ch

— JAMAInternalMed (@JAMAInternalMed) September 1, 2014
The worsening rich-poor diet gap is disturbing and "will have important public health implications," said study co-author Dr. Frank Hu of the Harvard School of Public Health.
It may even play a role in aggravating the disparity between rich and poor, given the importance of high nutrition in combatting disease, compounded by the high cost of health care in America.
"Declining diet quality over time may actually widen the gap between the poor and the rich," Hu said.
Hu said the results of the study appear to indicate that the 2007 financial crisis forced many people to purchase less expensive, highly processed foods , including fast food.
Despite the improved performance of the upper-income earners over the last 12 years, the study authors noted that "nearly the entire US population fell short of meeting federal dietary recommendations."
To get top marks in the Harvard study would require consuming daily more than two cups of vegetables, four servings of fruit and at least one ounce of nuts.
You can share this story on social media: