Family sues Georgia police for tasering man 13 times before he died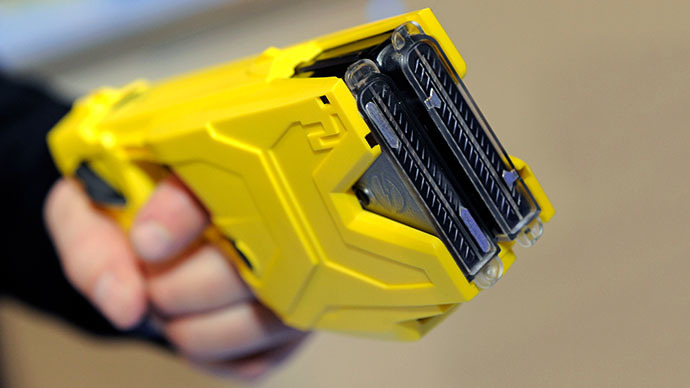 The family of a man who died after police used a stun gun on him as many as 13 times while he was handcuffed has filed a lawsuit against the two former officers of East Point, Georgia, according to the family's lawyer.
East Point police officers repeatedly stunned Gregory Towns Jr. on April 11 after he was apprehended by police, according to the lawsuit filed in Fulton County Superior Court.
The lawsuit claims former police sergeant Marcus Eberhard and former corporal Howard Weems used excessive force to subdue Towns, who apparently would not sufficiently follow police orders to move after apprehension.
"It's just heinous," attorney Chris Stewart told AP. "This isn't one of those cases where he punched an officer and they had to Taser him to calm him down."
Stewart said some officers act as if any disobedience is call for extreme action, such as was allegedly used against Towns, a black man.
"In our case, it wasn't about color, obviously, because the officers were black," Stewart said. "It was about power. He didn't walk when they said walk. He didn't stand when they said stand. And he didn't move fast enough when they said move."
Police use of excessive force, particularly against minorities, has been a topic of contention since the civil unrest in Ferguson, Missouri this month. Residents took to the streets to express outrage over killing of an unarmed black teenager by a white police officer. Ferguson, a suburb of St. Louis, has a majority-black population, but a police force and local leadership dominated by whites.
Towns, 24, was approached by Eberhart and Weems as he was leaving his son's mother's apartment complex following a domestic dispute, according to the lawsuit. Towns ran when officers asked to talk to him. He eventually stumbled, allowing officers to catch up to him and apply handcuffs.
The officers ordered Towns to get up and walk to a patrol car, but Towns said he was too tired after the run. Officer Weems threatened him with a stun gun if he did not move, according to the lawsuit. Towns got up, but soon fell again, insisting he was tired.
Stun gun logs obtained by Stewart from the police department show officers then used stun guns on Towns as many as 13 times in 30 minutes. A police report, though, said Towns was stunned fewer than five times, Stewart said.
The lawsuit charges that Weems and Eberhart violated the East Point police department's stun gun policy, which says stun guns should not be used on anyone who is handcuffed, nor should be used to escort or prod someone, nor should be used on someone passively resisting police.
Towns died from "hypertensive cardiovascular disease exacerbated by physical exertion and conducted electrical stimulation," according to a Fulton County medical examiner's office autopsy report, which lists his manner of death as a homicide citing stun gun use.
Eberhart has since resigned and Weems was fired. He is in the process of appealing his termination, according to East Point spokeswoman Renita Shelton. The department's former chief, Woodrow Blue, also resigned.
The Georgia Bureau of Investigation filed a report on the case. Fulton County District Attorney Paul Howard is using the report to determine whether to take the case before a grand jury.
The lawsuit filed on behalf of Towns' estate and young son seeks compensatory and punitive damages.
You can share this story on social media: