Florida cops accused of beating driver for not rolling down his window all the way (VIDEO)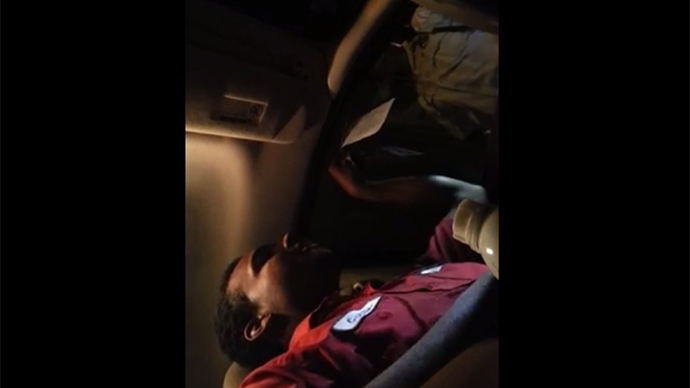 Cell phone video footage of a Florida traffic stop is beginning to go viral after the man who recorded his encounter with police pleaded online for assistance because he says law enforcement's actions forced him to move.
Curtis Shannon has raised $1,745 in three days after creating a crowdfunding site to help "recover" from an incident that occurred outside his St. Petersburg, FL residence last December.
According to Shannon, he was pulled over nine months ago by the St. Pete's police on his way home from work, but was hesitant to exit his vehicle immediately because of what he perceived to be threats from one of the officers on the scene. Instead, he attempted to feed the cops his info through his partially open car window.
After unsuccessfully attempting to first supply one of the officers with his driver's license and registration, Shannon began recording his encounter on his cell phone. Footage from the incident shows him appearing to cooperate with law enforcement, but expressing concern over why one cop insists he exits his car.
On YouTube, Shannon wrote that he began recording after he asked why he was being pulled over and the officer responded with "because I want to."
"Sir, I don't feel comfortable getting out of the car when I don't even know why you're here. Why do you need me to step out of the car? I'm not a criminal and my papers are all legal," Shannon recalls telling the officer.
"I need to see you," the officer insists during one part of the clip. "I need you to get out of this car, that's what I need you to do."
When Shannon asks why, he's told: "Because I asked you to."
Around four minute into the cell phone clip, Shannon heeded the officer's instructions. The cell phone footage shows that he was immediately roughed up, however, and Shannon says he was treated at a hospital the following day for scrapes and bruises he received during the incident — after he was released from jail.
"I took his word for it (silly me), grabbed my phone (now a camcorder) so I could continue recording from outside the car and openned [sic] the car door," Shannon wrote on GoFundMe. "I let go of the frame of my car and accepted my fate. I was getting beat up tonight, there's no denying that. The officer then slammed me onto the ground, making sure that my head made full contact with the curb on the way down."
According to Shannon, he was originally charged with resisting/obstructing with violence — a felony — although those charges were later reduced to a misdemeanor. He's hesitant to plead guilty, however, and has finally posted video of the footage in hopes of raising enough money for future lawyer fees.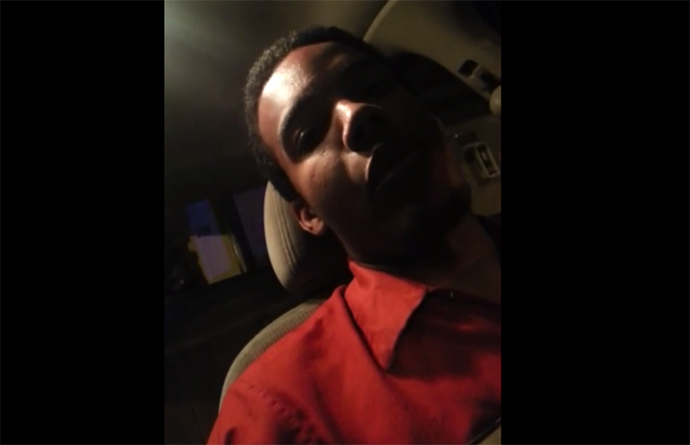 "I am elligible [sic] for the PreTrial Intervention program," Shannon wrote on his online fundraiser page. "If I accept and complete the program, the case will be dismissed upon completion. "
"'Well why not do that?' you may be asking. Accepting the program requires an admission of guilt to the offense I've been accused of. Doing so eliminates any chance I have of filing a suit against the state and possibly changing the way the police behave in the city," Shannon adds. "That's why I've come here."
On the YouTube page for the clip, Shannon says he and his family fled the county after the incident in lieu of risking any similar ordeals with the local police. Even the actions of the New York Police Department he endured while living in the Big Apple, Shannon wrote, pale in comparison to the way he's witnessed the SPPD behave.

"After this incident, we left the county. We left NYC because of the behavior of the NYPD and their tension with young black males. No way I would be raising my son there. Even in NY, I was never treated by police the way I was treated in St Pete that night," he wrote.
On Tuesday, St. Pete's Police Chief Tony Holloway told a local Fox News affiliate that his department has yet to receive a formally complaint from Shannon, but is investigating the incident.
"Once we got the video today, I instructed our office of professional standards to see if we can try to contact the gentleman to see if he does want to file a complaint," Holloway told Fox 13. "If he does, we will look at the complaint."
Meanwhile, the Florida state president of the Southern Christian Leadership Conference condoned Shannon's recording and told the Fox station his organization is "encouraging everybody in the state of Florida that is riding around in vehicles to start using their phones to photograph all police stops."
"Him having a camera -- that was a great thing," said SCLC executive director Jeffrey Copeland. "It kind of gives both sides of the story."
You can share this story on social media: