Hypersonic Advanced Weapon test fails four seconds after launch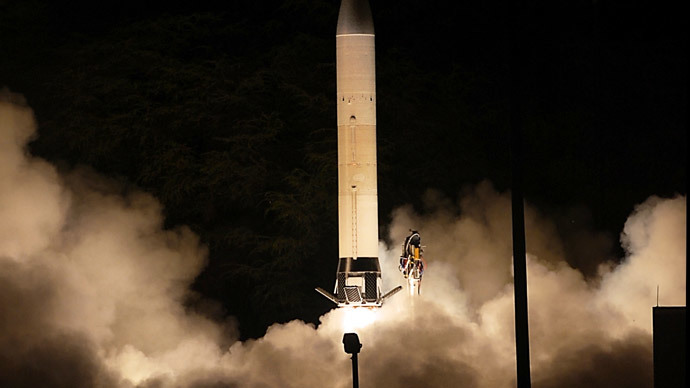 The Pentagon was forced to terminate the testing of a hypersonic weapon on Monday only moments after liftoff, creating a setback for a program that the military hopes will someday allow for any target on Earth to be obliterated in under an hour.
Monday morning's launch of a rocket carrying the Advanced Hypersonic Weapon from a test range in Alaska marked the second time since 2011 that the United States Army has attempted to deploy a missile capable of reaching speeds of Mach 5 or higher — or 3,600 miles-per-hour at a minimum — which, if all goes as planned, "will allow the Department of Defense to engage any target anywhere in the world in less than an hour," DOD spokesperson Maureen Schumann told the Associated Press.
The latest test was unsuccessful, however, with the Pentagon saying this week that controllers willingly aborted the mission after only four seconds due to only what officials are calling "public safety" issues.
"Due to an anomaly, the test was terminated near the launch pad shortly after lift-off to ensure public safety. There were no injuries to any personnel," the US Department of Defense said in a press release on Monday. "Program officials are conducting an extensive investigation to determine the cause of the flight anomaly."
"It came back down on the range complex. Fortunately, no people on the ground were injured. There was damage, but I'm not sure of the extent of it at this time," Schumann added to the AP.
Rocket w/ hypersonic weapon explodes after launch in Kodiak http://t.co/KJmCcTdfC6 via @newsminer@kdkmirrorpic.twitter.com/A3Wq1chuTs

— Casey Grove (@kcgrove) August 25, 2014
Scott Wight, a photographer, told Kodiak, Alaska's KMXT public radio station that he was roughly 12 miles away at the time of the launch, and even at that distance saw what the network described as a "quite loud and scary sight to see."
Onlookers to the Pentagon program say that this second consecutive failure will likely do little to hinder the military's efforts.
"This is such an important mission and there is promise in this technology," Riki Ellison, the founder of the nonprofit Missile Defense Advocacy Alliance, told Reuters this week.
Residents of the launch site in Alaska have raised questions, however, including Kodiak, AK resident Stacy Studebaker. In an email to KMXT, Studebaker told the radio station that she's concerned what kind of hazards exist for the un-burnt rocket fuel that's been introduced into the environment following the controlled crash landing this week.
The Pentagon's Advanced Hypersonic Weapon was developed by Sandia National Laboratory in conjunction with the US Army, and is part of the Defense Department's larger Conventional Prompt Global Strike technology development program. According to Reuters, analysts consider the creation of the program to be a direct response to reports of technologically advanced ballistic missiles developed by countries such as Iran and North Korea, or perhaps is part of an arms race with China.
"Anomaly" immediately after liftoff prompts destruction of rocket at Kodiak complex http://t.co/T6e98CHShepic.twitter.com/p4HiOgMmok

— Alaska Dispatch News (@adndotcom) August 25, 2014
But Anthony Cordesman, a defense analyst at the Center for Strategic and International Studies think tank, told the newswire that the Pentagon's technology is so far best suited for use against smaller, less-developed countries with missiles, and not adversarial nations that are actually capable of creating defense systems that stand a chance at thwarting any hypersonic weaponry.
"The United States has never assumed that these ... are going to be systems that you can use against a power like China by themselves," Cordesman told Reuters. "For a country like Iran or North Korea, they could be a very significant deterrent."
Previously, the Pentagon successfully tested a flight mission of the Advanced Hypersonic Weapon in November 2011 by launching the missile from Hawaii to the Kwajalein Atoll in the Marshall Islands.
You can share this story on social media: