California picketers prevent Israeli cargo ship from docking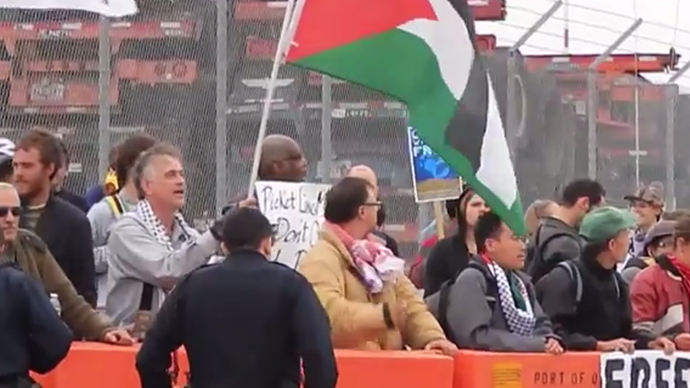 Picketers gathered at the Port of Oakland in California this weekend to prevent an Israeli shipping vessel from unloading its cargo in protest over the situation in Gaza, where the death toll has topped 2,000.
In what was a community-wide effort, dock workers that showed up for the evening shift on Sunday did not disturb the integrity of the picket line, which was there in anticipation of the ship, operated by Zim Shipping Services Ltd.
Because the line wasn't crossed, no unloading could take place. Organizer Lara Kiswani confirmed that "they're honoring our community picket and they haven't been crossing."
A Twitter campaign, called #BlockTheBoat, promoted the event, which started as a march earlier on Saturday with slogans such as "Gaza will be free" or "Boycott. Divest. Sanction. End Israeli Apartheid." Drawing supporters, it resulted in groups of 20 to 50 protesters gathering at different entrances to the docks.
The previous day it was only a coalition of some 70 organizations working in the San Francisco Bay Area, before the march became a picket.
ALERT: Ship still at Port of #Oakland. Meet at 5AM at berth 57 gate near 1717 Middle Harbor Rd to make sure we continue to #BlockTheBoat!

— BlockTheBoatForGaza (@BlockTheBoat) August 19, 2014
One organizer, Sharif Zakout, told the Guardian the group "didn't expect to be out here today until an hour before the ILWU workers were coming to work."
The ship's route was monitored by activists online, so the crowd knew to come back at 5:10pm to continue picketing on Sunday. The event lasted until 8pm and proceeded calmly, with no police involvement, although officers stood by and kept watch.
Kiswani doesn't look like she wishes to give up that easily or restrict the action to just this separate event.
"They may unload it in the morning, they may not," she told the newspaper. "Our intention is to really build a movement here … our goal in the long run is for the workers themselves to refuse to unload that ship, stand with us, and take a position against Israeli apartheid."
We won again!! Longshoremen ordered to go home !! We made history!!! #BlockTheBoatpic.twitter.com/W6lA7c2Uyu

— Alyssa (@alyssa011968) August 19, 2014
Zim is one of the leaders in global container shipping and is the largest cargo shipping company in the world today, according to its website. Thirty-two percent of the organization is owned by Israel Corporation, hence the reason for it being singled out by protesters. The corporation itself was founded in the late 1960s by the Israeli government and is its largest holding today.
Protests against its dealings have taken place in the past, the last of which was in 2010, when Israel blockaded the Gaza Strip.
The Jewish state's current operation, 'Protective Edge', has been underway for six weeks, and has cost over 2,000 Palestinian lives, most of them civilian, as well as those of more than 60 Israeli soldiers. While condemning the actions of the Palestinian Hamas party, the international community has now started to wake up to Israel's own role in the conflict. The UN is now considering accusing it of war crimes as part of a recently-established panel.
You can share this story on social media: