Teens launch phone app to keep tabs on police brutality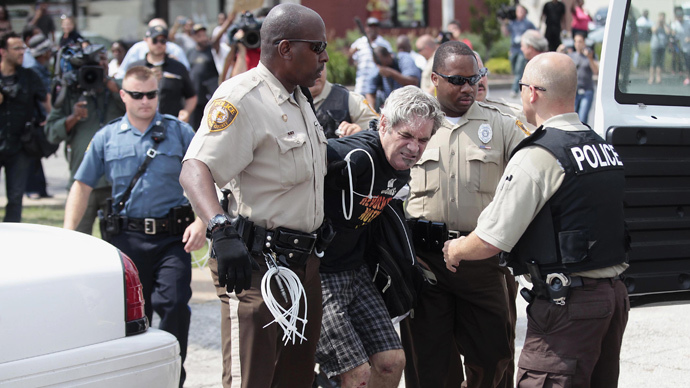 Police brutality may seem like a subject best handled by lawmakers and political advocates, but three teenagers from Georgia are hoping to shed light on the problem and promote good behavior with a new app they've developed.
Called "Five-O," the app has been designed specifically for mobile phones and encourages users to record and document every encounter they have with police officers. By doing so, users can submit ratings for local law enforcement, allowing people to see how each area's police departments stack up in terms of civil behavior.
Speaking with Business Insider, 16-year-old Ima Christian of Decatur, Georgia, said her siblings came up with the idea after regularly hearing reports of police abuse around the United States.
"We've been hearing about the negative instances in the news, for instance most recently the Michael Brown case, and we always talk about these issues with our parents," she said. "They always try to reinforce that we should focus on solutions. It's important to talk about the issues, but they try to make us focus on finding solutions. That made us think why don't we create an app to help us solve this problem."
The app itself – which is already available for Android devices and should be on Apple's App Store soon – is already drawing comparisons to Yelp. Not only can users report instances of verbal and physical abuse by police, but they can also rate an individual officer's behavior with a grade ranging from A to F. Ratings for each officer are stored and can be viewed by anyone, and the app separates department reviews by county so that neighboring residents can see how service differs outside of their immediate area.
Additionally, Five-O has a "Know Your Rights" section featuring information from the American Civil Liberties Union. According to ThinkProgress, citizens will be able to provide as much background on an incident as they like, and in instances requiring legal action, that data can be sent directly to law enforcement.
"We'd like to know which regions in the US provide horrible law enforcement services as well as highlight the agencies that are highly rated by their citizens," Ima said to the website. "In addition to putting more power into the hands of citizens when interacting with law enforcement, we believe that highly rated police departments should be used as models for those that fail at providing quality law enforcement services."
Ima also emphasized that the family's intention isn't to focus solely on bad behavior, and that they'd like people to report good encounters with police as well.
"If someone has a positive interaction with the police … for example, an officer saved your cat, or was very courteous and professional, we want people to be able to document that too," she said to Buzzfeed. "We hope that law enforcement agencies with positive reviews can help by functioning as role models."