Ebola epidemic sparks offerings of fake drugs claiming to cure disease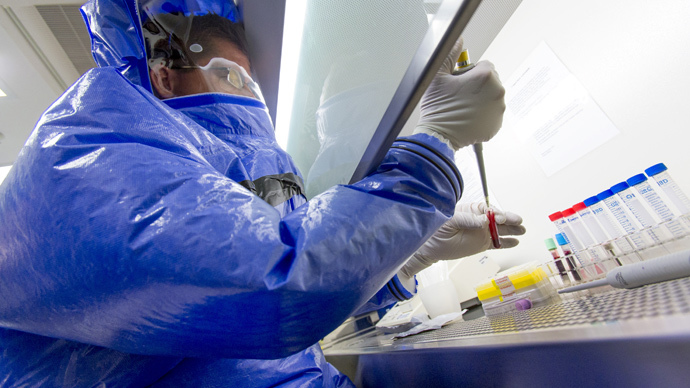 There isn't a cure for the lethal Ebola virus, regulators said in a reminder this week, and consumers should be weary of offerings that allege to do as much.
On Thursday, the United States Food and Drug Administration posted a bulletin on its official website advising Americans to be on the lookout for products being advertised on the web as antidotes for the hemorrhagic fever disease that has recently claimed more than 1,000 lives in western Africa amidst one of the worst outbreaks ever.
According to the FDA, consumers have filed a number of complaints concerning "a variety of products claiming to either prevent the Ebola virus or treat the infection."
"There are currently no FDA-approved vaccines or drugs to prevent or treat Ebola. Although there are experimental Ebola vaccines and treatments under development, these investigational products are in the early stages of product development, have not yet been fully tested for safety or effectiveness and the supply is very limited," the FDA said in a statement. "There are no approved vaccines, drugs, or investigational products specifically for Ebola available for purchase on the Internet. By law, dietary supplements cannot claim to prevent or cure disease."
"Individuals promoting these unapproved and fraudulent products must take immediate action to correct or remove these claims or face potential FDA action," the notice continued.
The FDA's warning in the US came just days after Nigeria's National Agency for Food, Drug Administration and Control, NAFDAC, condemned similar claims being touted to residents in west Africa, and threatened to press charges against anyone advertising alleged cures, according to local media.
Even ahead of that warning, however, federal officials in the region hit hardest by the latest Ebola outbreak were going as far as to appoint "rumor managers," according to Bloomberg News, to counter not even counterfeit drugs, but household remedies being offered as antidotes.
"The rumors themselves can actually cause a lot of damage," said Lagos state Commissioner for Health Jide Idris. "People react to rumors by carrying wrong information."
Onyebuchi Chukwu, the nation's minister of health, said during a press conference earlier this month that people spreading "wicked lies" about alleged treatments are "evil minded," and that "this nonsense must stop," according to Bloomberg.
In the US, meanwhile, the FDA has reminded Americans that the risk of contracting the often-deadly disease is nowhere near what Nigerians are being subjected to.
"It is important to note that according to the Centers for Disease Control and Prevention (CDC), Ebola does not pose a significant risk to the US public," the regulators said in their reminder. "Unfortunately, during outbreak situations, fraudulent products that claim to prevent, treat or cure a disease all too often appear on the market. The FDA monitors for these fraudulent products and false claims and takes appropriate action to protect consumers."
Earlier this week on Wednesday, the US State Department asked that the family members of embassy staffers in west Africa return home "out of an abundance of caution," citing "a lack of options for routine health care services at major medical facilities due to the Ebola outbreak." Two American missionaries who contracted the disease while working in Africa last month are currently being treated at a hospital in Atlanta, Georgia.
You can share this story on social media: