State Dept to spend over $500k on training staff for congressional grilling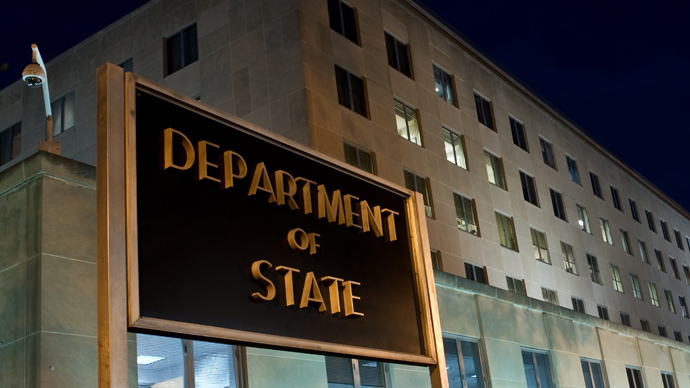 The US State Department has approved a $545,000 contract to coach its officials on how to testify before Congress and brief lawmakers. The department had to seek help from a professional firm after a series of embarrassing performances by its staff.
The department has hired an Orlando, Florida-based company called AMTIS, Inc.
The contract includes classes entitled 'Communicating with Congress: Briefing and Testifying.' It also includes a separate ambassadorial seminar "for building effective relationships with members of Congress and their staffers."
According to the contract, the 'Communicating with Congress' classes will be offered "between three to four times per year. There is a minimum of 10 and a maximum of 15 participants per class."
In addition, there will be individual sessions and classes of mock hearings where officials will testify in front of a panel of experts, who will then give their feedback on the performances.
Other topics taught under the contract include "Tips for leveraging State's Bureau of Legislative Affairs" and "Training and skill-building in briefing techniques," as well as "Building effective relationships."
Classes will be taught by instructors with current or recent Capitol Hill experience.
According to AMTIS, the company focuses on providing "federal and state agencies with innovative, high-quality, and affordable products and services while continuing to serve our nation."
The company also has contacts with the Department of Veterans Affairs, the Federal Emergency Management Agency, and the Food and Drug Administration. It worked on two "congressional testimony training sessions" with the Inspector General's Office at the Department of Housing and Urban Development, The Washington Times reported.
The State Department hired AMTIS following several embarrassing performances by its staffers at congressional hearings.
Indeed, some of the State Department senior-level officials will be remembered for their statements.
Earlier this year, the White House came under fire over a handful of President Obama's ambassador nominees, who appeared to lack knowledge or expertise about the nations where they would serve.
'Ambassadors for Dummies': Obama's payback diplomatic posts make mockery of foreign service
At least three nominees – who were high-dollar campaign fundraisers and donors for President Obama – raised concerns after poor performances in their confirmation hearings before the Senate Foreign Relations Committee.
Obama's nominee to Argentina, Noah Bryson Mamet, admitted he had never been to the South American country, though he "traveled pretty extensively around the world." The nominee to Norway, George Tsunis, spoke extensively about the country's president, despite the fact that Norway does not have one.
President Obama's pick to Hungary, soap opera producer Colleen Bradley Bell, also had trouble answering what America's strategic interests are in that country.
These and other cases prompted the union representing America's Foreign Service professionals to threaten to sue the State Department for information on the experience and knowledge of recent ambassadorial nominees.
You can share this story on social media: