Argument over 'best military branch' ends in Montana murder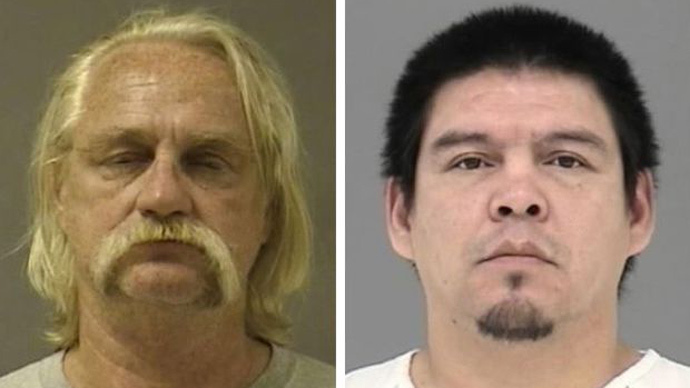 The best branch of the US military may be up for debate – unless you are William Earl Cunningham, who told police he killed a fellow Montana man while arguing the topic. He is now being charged with deliberate homicide.
Nathaniel Horn and Cunningham were drinking together on Saturday night at Lena Heller's home in the Montana town of Laurel when they began arguing over the best branch of the military, Heller told KULR. Cunningham lives in the same complex as Heller, while Horn was in town visiting a friend, the Billings Gazette reported.
During the debate, Horn claimed the better branch was the Marines, while Cunningham declared it was the Army. The argument turned violent when the man favoring the Devil Dogs took a swing at the man choosing the GIs. Cunningham later told police he pushed Horn back, and "then I cut him. I did what the Army taught me to do," the Associated Press reported.
Heller, the hostess, called the police. When officers arrived at the scene late on Saturday, 63-year-old Cunningham was leaning against a car parked in the street, while 40-year-old Horn was lying on the grass next to him, gasping for breath. Paramedics were flown in from Billings, but Horn was pronounced dead less than an hour later, the Gazette reported.
The assailant "voluntarily" told Officer Jeremiah Johnson, "I cut him, he's dead," and "the knife's on the table," according to the charging documents. Horn had a cut on his right cheek, and his neck was slashed from underneath his chin on the left side to the right side of his neck.
The folding knife had a 3.5-inch blade.
"I think it's horrible that somebody would just kill somebody for no reason, just because of an argument," Heller said. She blames the alcohol for Horn's death.
"I know it was the alcohol," she said. "But I don't know, I guess that's what alcohol does. So I hope people can really see what happened and if they decide to drink to be responsible about it."
Cunningham's blood-alcohol level was 0.217 percent – above the 0.08 limit at which a person is considered legally intoxicated, court records said.
The two men had previously argued about their military service and over which branch was better. Both men have prior criminal histories for violent offenses, Laurel Police Sgt. Mark Guy said during a news conference Monday evening. He declined to detail their crimes, but the Gazette reported that their rap sheets span "several decades."
The Billings paper delved into Cunningham's past, discovering a 1983 conviction out of Santa Clara, Calif., for being a felon in possession of a firearm – a felony – according to court records. In the Big Sky State, he was charged with felony forgery and felony criminal possession of dangerous drugs in 1999, receiving a five-year suspended sentence as part of a plea agreement. However, he violated the terms of the plea several times over the next eight months.
In August 2000, after Cunningham was involved in a disturbance, Yellowstone County Sheriff's deputies searched his car and found full and partially full 24-ounce cans of beer, an unloaded .38 special pistol, three knives, a sawed-off aluminum baseball bat, a bag containing $110,650 in stolen savings bonds, an undetermined amount of gold coins and 6 grams of marijuana. His blood alcohol content when he was arrested was .108. He served out the rest of his sentence in prison.
He was also arrested two more times before the deadly confrontation over the weekend.
Horn was a designated violent offender, according to Montana Department of Corrections records. He served time in state prison on a burglary charge in 1994, had several partner family assault charges, and jumped bail on his last charge in 2008 – only to be arrested in Alaska in January 2009. He then served about two years in prison.
On Tuesday, Cunningham made his first appearance in court, where he was charged with deliberate homicide. He did not enter a plea, and will be assigned a public defender. Justice of the Peace David Carter set suspect's bail at $500,000, according to AP.
The homicide is the first in Laurel since a vehicular homicide in 2012. There was also a fatal shooting in 2008, according to Guy.