Michigan community rebels against huge expansion, militarization of police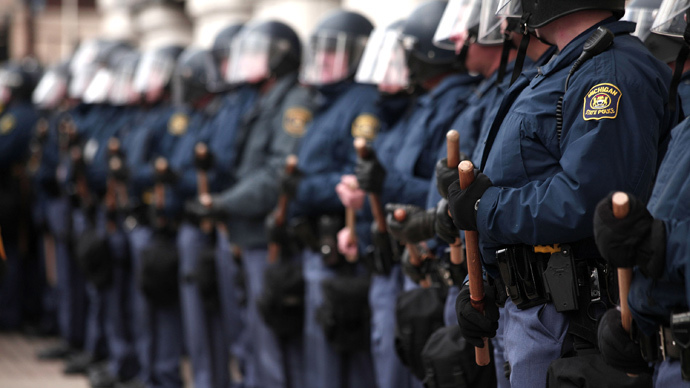 After acquiring some military hardware, one local Michigan police chief's plan to also add more than 30 non-certified officers to the force has residents in Barry Township clamoring for an investigation – and, in some cases, his job.
According to the Detroit Free Press, the township's police chief Victor Pierce is under fire for what some in the area characterize as increased use of force by law enforcement, as well as for a proposal that would add more officers than are necessary to keep track of a population of 3,900.
Pierce is looking to add 34 individuals to the police reserve force in Barry Township – a significant increase over the four full-time officers currently employed. What's more, these reserve officers are no certified – the department has already been warned that the officers need training and only deployed for special events.
"They're not from around here," Tony Crosariol, a biochemist who moved to the area seeking a peaceful life, said to the Free Press. "These reserve officers are not our friends, they are not our neighbors, their kids don't play sports with my kids."
Plans to expand the reserve force so much come on top of the fact that the police department is in possession of two armored personnel carriers and two Humvees, which arrived in the area courtesy of the US Department of Defense.
The debate over police behavior as well as the reserve force gained momentum in May after local resident Jack Nadwornik was confronted by a trio of officers who claimed he resisted arrest. Nadwornik was caught urinating outside a bar that had closed down for the evening, and suffered broken hand and was kneed in the back by police before being taken to jail and charged with disorderly conduct and resisting arrest. Nadwornik and another witness said police claims about his behavior were not true.
The incident has galvanized critics who say police are using unnecessary force, and that their behavior stems from Pierce's aggressive attitude towards law enforcement's role in the community. Many have called for him to be fired or resign, but he has defended his position by citing events like the Sandy Hook Elementary School shooting and threats of terrorism. He said he's not trying to form "any kind of military machine or mind-set," and that he's simply looking to prevent tragedies from occurring in the future.
Despite the criticism, Pierce's proposals have split the community, with some coming out in support of his plans and defending the police under his watch.
"I think Victor is doing a fine job," said Delores Mohn, a retired schoolteacher who now works as a church secretary, to the Free Press. "He wants to do what's right. Every citizen needs to know the laws, and if they are caught, they have to pay the price. I'm very grateful for them and have enormous respect for these officers."
The situation in Barry Township isn't the only example of local residents expressing concern over potentially aggressive police departments. As RT reported late last year, police in Salinas, California, came under intense scrutiny after acquiring a heavily armored military vehicle for its SWAT team. Designed for use in warzones like Iraq and Afghanistan, the truck is capable of surviving minefield explosions and rifle fire, leading many to wonder why it was being deployed in their city. Police Chief Kelly McMillin acknowledged concerns but insisted the vehicle would only be used to protect officers and enhance civilian safety.
You can share this story on social media: